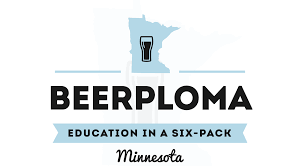 March Madness is a fun celebration of the MN craft beer scene. Plus, this year, we are releasing our collaboration beer between Beerploma and Tin Whiskers Brewing Co. – brewed on TW's pilot system – Millivolt March Mole Stout starting at 4p.
There will be other bracket-themed activites for the evening annonunced pre-event.
Beerploma's event tournament started with 32 breweries, but has expanded to 64 since there are so many MN breweries now. The fans decide which breweries are in. This year, we broke the state into 4 regions, a North, South, West Metro, and East Metro. The seeds(1-16) are based on fan voting. The brewery with the most votes in each region gets the #1 seed and it goes down from there to 16. The voting pits breweries against eachother and people vote using a Google form which can be found on our blog and Beerploma FB page. We encourage breweries to share the voting form to encourage maximum fan support. Eventually, all the brackets get pared down to one champion brewery that wins the Beerploma March Madness. The official tournament will kick off with the first matchups on Sunday, March 12th. So make sure you get out and vote for your favorites. The great thing about March Madness is that any brewery can win, it is up to the fans.