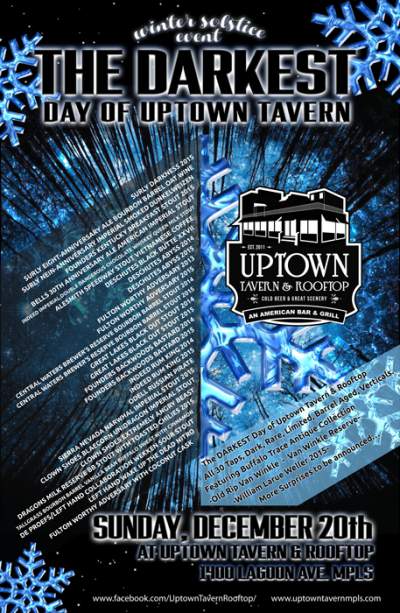 Uptown Taverns DARKEST Day
Sunday December 20th 2015
Staggered tapping starting at 4pm
Once again Uptown Tavern will be unleashing all 30 Taps of the DARKEST rarest craft beers out there. Current rare beers and many beers pulled from the cellar… Featuring verticals from multiple breweries, most if not all of the rare and limited Stout releases from 2014 & 2015!
Surly Darkness 2015
Surly Eight-Anniversary Ale Bourbon Barrel Oat Wine
Surly Nein-Anniversary Imperial Smoked Dunkelweizen
Founders Kentucky Breakfast Stout 2015
Bells 30th Anniversary Ale American Imperial Stout
Indeed Imperial Double Dangerous Chocolate Whiskey Queen Milk Stout
AleSmith Speedway Stout Vietnamese Coffee
Deschutes Black Butte XXVII
Deschutes Abyss 2014
Deschutes Abyss 2015
Fulton Worthy Adversary 2013
Fulton Worthy Adversary 2015
Central Waters Brewer's Reserve Bourbon Barrel Stout 2014
Central Waters Brewer's Reserve Bourbon Barrel Stout 2015
Great Lakes Black Out Stout 2014
Great Lakes Black Out Stout 2015
Founders Backwoods Bastard 2014
Founders Backwoods Bastard 2015
Indeed Rum King 2014
Indeed Rum King 2015
Odell Russian Pirate
Sierra Nevada Narwhal Imperial Stout 2015
Clown Shoes Blaecorn Unidragon Imperial Stout
Clown Shoes Extremely Angry Beast
Dragons Milk Reserve BB Stout with Toasted Chilies 2015
Tallgrass Bourbon Barrel Vanilla Bean Buffalo Sweat with Cinnamon
De Proefs/Left Hand Collaboration Wekken Sour Stout
Left Hand Wake Up The Dead Nitro
Fulton Worthy Adversary with Coconut Cask
Also, a special feature of bottles from the Buffalo Trace, Antique Collection
William Larue Weller 2015 – Old Rip Van Winkle – Van Winkle Reserve
Mark your calendars now.
Do not miss the biggest Tavern Event of the Year!
Stay tuned for more to be announced…
https://www.facebook.com/events/1041735262523497/