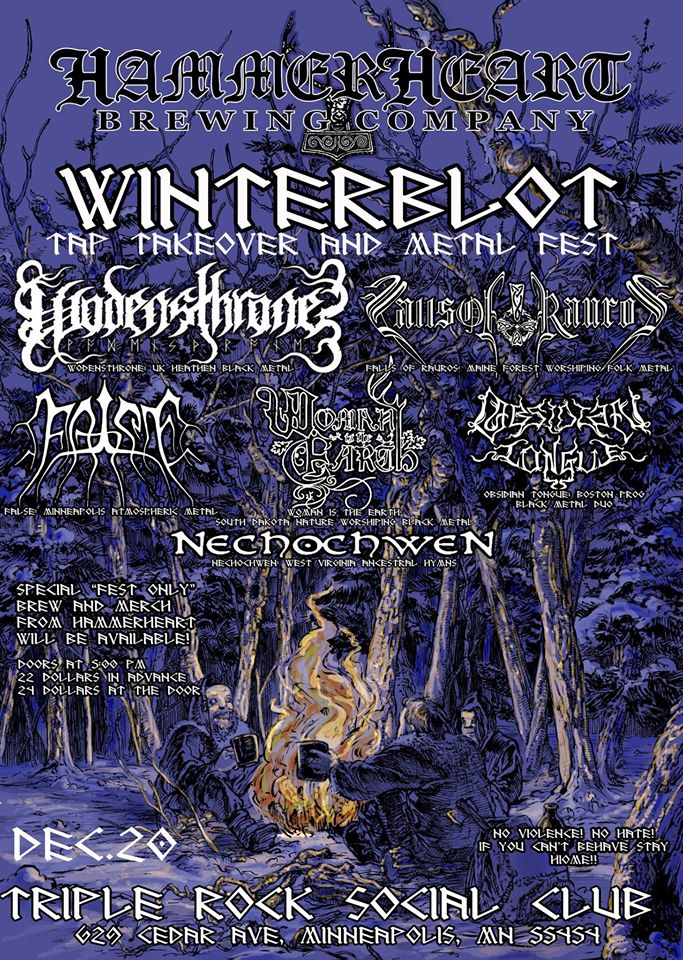 Usher in the most metal of the four seasons with HammerHeart Brewing Company's Winterblot Fest at the Triple Rock.
The fest will be a 6-tap takeover featuring a special brew made in limited quantity just for the fest as well as limited-edition merchandise for the fest featuring the poster art by Nate Burns.

December 20th. Doors at 5PM. $22 in advance and $24 at the door.
Tickets available online at http://ticketf.ly/1r53afA, at the HammerHeart taproom and at Into the Void Records in Saint Paul.

Band lineup includes:

FALSE: Minneapolis atmospheric metal on Gilead Media records.
NECHOCHWEN: West Virginia's passionate exploration of native heritage through acoustic and metal music on BINDRUNE recordings.
WOMAN IS THE EARTH: Nature worshiping, blazing black metal from South Dakota .
OBSIDIAN TONGUE: Atmospheric, progressive black metal from Boston .
FALLS OF RAUROS: Portland, Maine. Americana and folk tinged metal of the most atmospheric and passionate kind. On BINDRUNE recordings
WODENSTHRONE: Atmospheric, blistering black metal from the UK. Wodensthrone are this generations EMPEROR. Majestic and powerful. On Candlelight records.