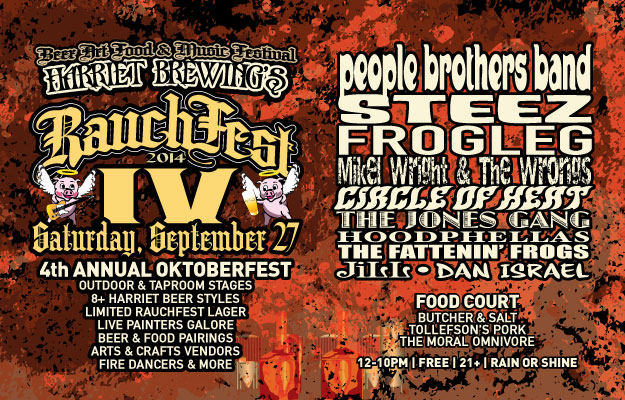 Harriet Brewing announces their 4th Annual RAUCHFEST, a one-day Oktoberfest featuring Craft Beer, Food Trucks, Local Art, and Live Music. Harriet Brewing again will brew a single batch of Rauchfest, a smoked Oktoberfest Lager for this festival. A total of 8 Harriet beers will be available on tap, each with uniquely tantalizing tastes. Food and non-alcoholic beverages from Tollefson's Family Pork, Butcher & Salt and Moral Omnivore will be available to perfectly compliment the Rauchfest German-smoked lager and the other seven brews.
Both music stages will showcase regional talent including STEEZ, The People Brothers Band, Frogleg, Circle of Heat, The Fattenin' Frogs, Hoodphellas, Dan Israel, and more. All genres again are covered including Funk, Roots, Bluegrass, Jam & Rock along with live painters, arts and crafts, fire dancers and various other venders will be at Rauchfest 2014.
Saturday, September 27, 2014
2 Stages / 10 Bands / 3 Food Trucks / Live Painters / Arts & Craft Vendors
Music: 12 PM – 10 PM | FREE | Rain or Shine
21+ | Kids under 12 welcome during the day.
We want to thank all the live music supporters throughout the year for all those times you pay cover to see outstanding talent on our stage. So, this year we give you Rauchfest IV, a free event for our community to come drink beer and enjoy the true essence of Harriet Brewing on our big day!
RAUCHFEST 2014 BEER MENU
Rauchfest Lager – German-Style Smoked Lager – 5.5% ABV • 25 IBU
Oktoberfest / Márzen – German-Style Lager – 5.0% ABV • 25 IBU
West Side – Belgian-Style IPA – 6.5% ABV • 40 IBU
Dark Abbey – Belgian-Style Dubbel – 7.5% ABV • 25 IBU
Divine Oculust – Belgian-Style Golden Strong – 8.5% ABV • 35 IBU
Woluptuweiss – German-Style Dunkelweizen – 5.5% ABV • 12 IBU
Wodan Weizen – German-Style Weissbier – 5.0% ABV • 14 IBU
Luv Jus – Belgian-Style Wit – 5.0% ABV • 12 IBU
Barrel Aged Sour Divine Oculust – Barrel Aged Belgian-Style Goldden Strong – 8.5% ABV • 35 IBU
Tickets: $6 or 4/$20
OUTDOOR STAGE
STEEZ (7:30-9pm) ~ Creep Funk
Mikel Wright & The Wrongs (5:30-7pm) ~ Funk Rock Reggae
Circle of Heat (3:30-5pm) ~ Jam Rock Fusion
The Fattenin' Frogs (1:30-3pm) ~ Roots Rock Bluegrass Blues
JiLL (12pm-1pm) ~ Rock Folk Duo
TAP ROOM STAGE
The People Brothers Band (8:30-10pm) – Funk Rock R&B
Frogleg (6:30-8pm) – Rock Soul Blues Bluegrass
The Jones Gang (4:20-6pm) – Grateful Dead Tribute Band
Hoodphellas (2:30-4pm) – Phish Acoustic
Dan Israel (1-2pm) – Songwriter plus Beatles and Dylan covers…
Vinyl Hour (12-1pm) – Harriet's Record Collection
ART ALLEY
DWITT – Alley Exhibit + Live Painting
Jeff Troldahl – Tap Room Exhibit + Live Painting
SJ Gray – Alley Exhibit + Live Painting
Jesse Brodd – Tap Room Exhibit
Shell Kelley – Live Painting + Alley Exhibit
FOOD TRUCKS
Tollefson's Family Pork
The Moral Omnivore
Butcher & Salt
Facebook: https://www.facebook.com/events/258999150957265