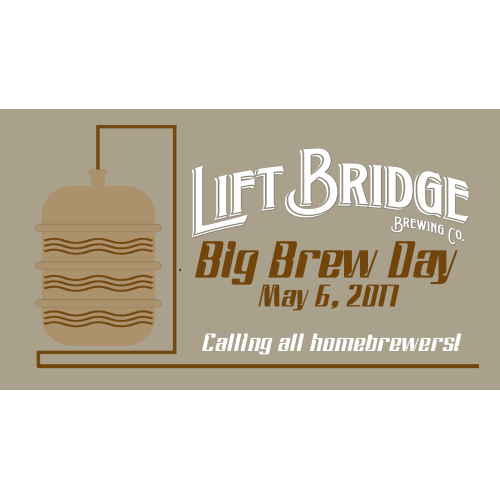 Here's a link to the official event:
https://www.eventbrite.com/e/lift-bridge-big-brew-2017-tickets-31661778231
We are celebrating National Home Brewers' Day in style by inviting all home brewers into the brewhouse to brew a batch of beer together!
We will also be selling (almost giving away) fresh wort for $5/5 gallons brewed by our headbrewmaster, Matt Hall.
This is just 5 weeks out from the 2017 Pro-Am Beer Competition, so be sure to be talking with your home brew groups to make sure you're in the know on how to potentially enter!
The official beer this year suggested by the American Homebrewers Association is TBD
Lift Bridge Brewing Co will hold its second annual Big Brew Day on May 6, 2017 from 12-6pm!
Each year, the American Homebrewing promotes "Big Brew Day" to try to get everyone around the world to brew beer at the same time! Last year over 17,000 individuals attended an event! Come and learn about Homebrewing!
Matt Hall, Head Brewer, will make a batch of wort to celebrate "Big Brew Day" and individuals registered on EventBrite will be able to take wort home to ferment (details to follow).
12 EventBrite registered Homebrewers will be able to set up their equipment and brew inside the brewery or outside in a designated area. (CHANGE – We are allowing up to 30 set ups, but only the first 12 are guaranteed indoors.)
Public Tours of the facility will be held at 1, 3 and 5pm.
There will be two educational brew talks scheduled for 2pm and 4pm.
Members from local Homebrew Clubs will be onsite to answer questions about memberships.
Lift Bridge Beer will be available for purchase!
Food will be available for purchase!
Live music by Scrapegoat Skin and Bones will be playing from 1pm-4pm.