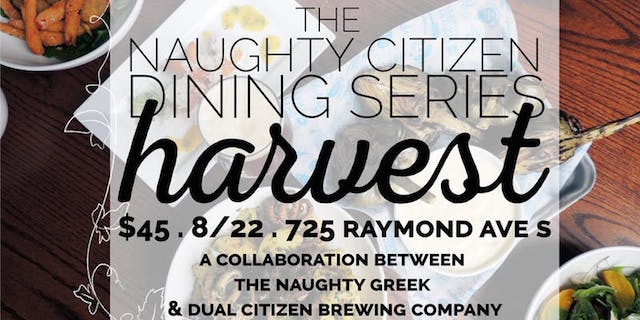 Tickets: https://bit.ly/2AVvjYA
An evening of Greek food paired with local beer: a collaboration from Dual Citizen Brewing Company & The Naughty Greek just over the river in St Paul!
We're thrilled to announce the third installment in our Naughty Citizen Dining Series: Harvest.
It's an exclusive tasting menu with a modern Greek sensibility from Chef Dusty Graham at The Naughty Greek, celebrating local produce and the influence of global flavors in Minnesota. Dual Citizen will be pouring their fine craft beers alongside, and head brewer Max Filter will be creating something tailored especially for this event & this food.
The role of the Minnesota farm in each of our businesses is a crucial one, from the tomatoes to the hops, and August is a particularly lush time of the year. Harvest is all about paying homage to the fertile soil we have the privilege to sow, and the unique traditions we all bring to the table.
Join us for small plates, cold pours, and a celebration of what it means to be good neighbors! Beer starts flowing at 7:00, and food served at 7:15.
MENU
stuffed fried olives & fresno fries with virgin tomato sauce
paired with
hillcrest peated stout
grilled artichokes with lemon aioli
paired with
franklin coffee brown ale
baby octopus with garlicky potatoes
paired with
laurel ginger wheat
pork tenderloin with fennel, beets & blood orange
paired with
summer pale ale
grilled peaches & cream
paired with
mango farmhouse ale