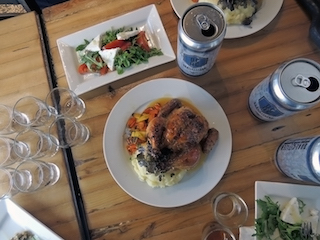 An evening of Greek food paired with local beer: a joint venture from Dual Citizen Brewing Company & The Naughty Greek. We're thrilled to announce the second installment in our Naughty Citizen Dining Series: the Dog Days of Summer!
The dog days, καλοκαιρινές μέρες, are sultry and sticky. You can't bear to turn on your stove and the best cure is a cold beer. They also correspond with the rising of Ο Σειριος, or the star we know as Sirius: the brightest star in the sky. Homer warned when Sirius shines, artichokes flower, and grasshoppers chirp, it's best to keep men from growing thirsty – we plan to do just that!
The Naughty Greek has been cooking up an exclusive tasting menu to be paired with Dual Citizen beers, served on the patio, transformed into an immersive communal dining experience under the stars.
Join us for small plates, cold pours, and a celebration of what it means to be good neighbors! Beer starts flowing at 7:00, and food served at 7:15.
Ticket price includes 18% gratuity. For a vegetarian option, please email natalie@thenaughtygreek.com once your ticket has been purchased.
https://www.eventbrite.com/e/naughty-citizen-dining-series-the-dog-days-of-summer-tickets-47596811344?aff=eac2