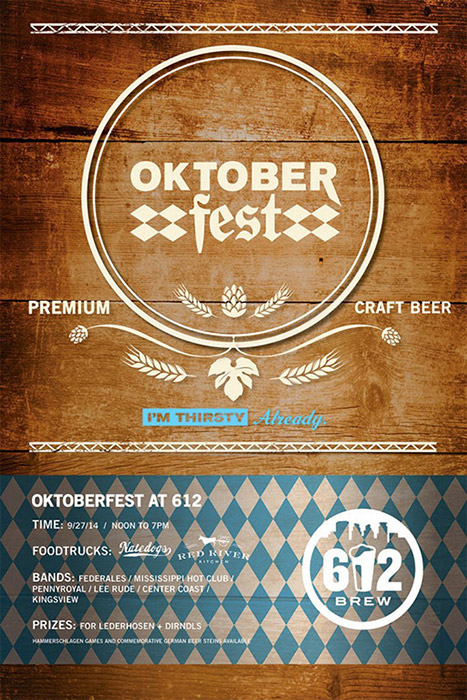 The MN State Fair has come and gone, the kids are back to school and there is a chill in the evening air. Shorts and sweatshirts are a common sight. Thirsty craft beer drinkers move away from the summer ales, slip on their fingerless drinking gloves and reach for something maltier, with more body and with less hops. It's Oktoberfest time.
It's also time to get your lederhosen and dirndl out of storage and celebrate Oktoberfest with 612Brew on Saturday, September 27 from 12-7pm. We invite you to be a part of the second annual, FREE celebration, highlighted by the following:
• Eight beers on tap featuring Oktoberfest, Rated R, SIX, Gateway Park, Zero Hour, Shere Khan, GLAM and Mary Ann
• Live music in the outdoor amphitheater from Kingsview, Center Coast, Lee Rude, Pennyroyal, Mississippi Hot Club and the Federales
• Food from Red River Kitchen and Natedogs
• Hammerschlagen Games
• Special Edition 20oz commemorative Oktoberfest beer steins
• Prizes given away to the best dressed in lederhosen and drindls
• Free rides from Uber Twin Cities
Find the event on Facebook here: https://www.facebook.com/events/1466309623638491/
Prost! I'm Thirsty Already!