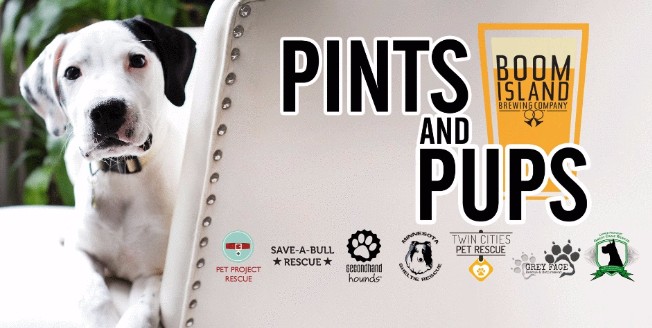 Boom Island Brewing Company is pleased to host the 2nd Pints & Pups fundraising event! This year will feature 7 local rescue organizations as well as several local vendors. Rescues and vendors will be on site at the brewery between 1pm and 6pm, and a portion of Boom Island's proceeds from the entire day will be donated to the rescue organizations. Nate Dogs hotdog stand will be providing food for guests throughout the day. Pints & Pups is a dog-friendly event – all well-behaved and leashed dogs are welcome to attend! Use the hashtag #PintsandPups to connect with us on social media!
2016 Pints & Pups Rescue Organizations
Secondhand Hounds
Pet Project Rescue
Twin Cities Pet Rescue
Save A Bull
Minnesota Sheltie Rescue
Upper Midwest Great Dane Rescue
Grey Face Rescue & Retirement
Additional Information
Water will be available for all dogs and their humans throughout the day.
IDs will be checked upon entry.
2 bars will be serving beer.
Free street parking is available along North Washington, North 2nd Street (both north and south of the Broadway intersection) and at nearby cross-streets.