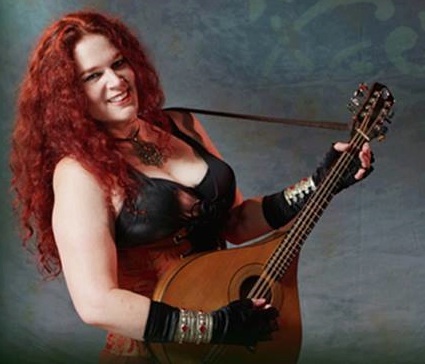 Sidhe Brewing is proud to present Sharon Knight Live In Concert!
San Francisco songstress Sharon Knight is a Celtic folk singer in leather armbands. She plays octave mandolin as if it were an electric guitar and sings as though she means to summon a storm. Her penchant for combining fierce and gutsy bravado with ethereal beauty, a hearty dose of fantastical lyrics, and an obvious love of storytelling has inspired her own musical style, "Neofolk Romantique". Although her musical foundations are solidly built on her Celtic heritage, Sharon has never been one to hold fast to tradition, preferring instead to look to her roots for inspiration and then chart her own path.
That path often sounds less Celtic and more "Folktales that ran away with the Faeries at the turn of the century and took cover in an old trunk bound for the circus, which was then commandeered by pirates." She likes it this way.
Sharon's distinctive voice and striking poetry have won her a loyal following across the country. Together with longtime collaborator Winter, she tours internationally several months out of the year, performing at festivals, masquerades, conventions, cafes, shops and house concerts. They have performed main stages at Faerieworlds (OR), Sherwood Faire Celtic Music Festival (TX), New York Faerie Festival, as well as numerous smaller Celtic and mythic/fantasy festivals across North America. Their music has been heard on over 300 radio stations, enjoyed "top 10" status on MP3 and NAR charts, and has captured the attention of major labels and independent labels alike.
The music of Sharon Knight combines a love of antiquity and romance with an affinity for the haunting and melancholy, adds a hearty dash of feistiness, and reminds us that we can all see the world through the eyes of enchantment.
Doors at 7:00 pm, Show begins at 7:30pm
Sharon and Winter will be joining the concert goers after the concert to socialize.
Tickets are $15 available through brown paper tickets: http://sidhe-sharonknight.bpt.me
Facebook Event: https://www.facebook.com/events/475653129265346/