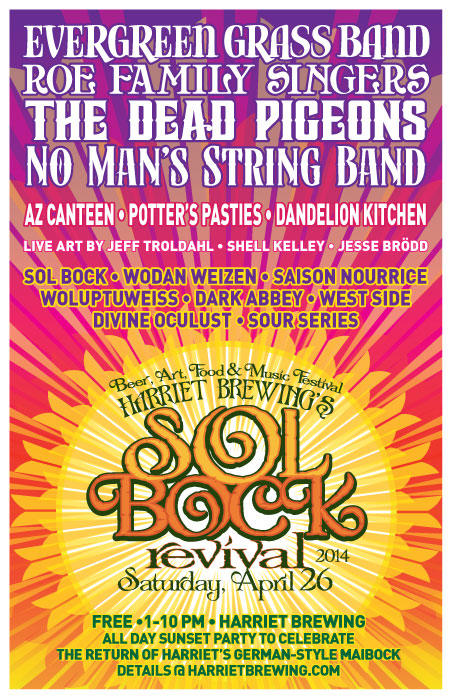 Sol Bock Revival ~ Beer, Art, Food & Music Festival
April 26, 2014
1-10pm | Rain or Shine | FREE
Harriet Brewing's all day sunset party celebrating the return of Sol Bock, our German Style Maibock.
Beer: Sol Bock, Wodan Weizen, West Side, Dark Abbey, Saison Nourrice, Divine Oculust, Woluptuweiss, Sour Series
Art: Live Art by Jeff Troldahl, Shell Kelley & Jesse Brödd
Food: AZ CANTEEN • POTTER'S PASTIES • DANDELION KITCHEN
Music: Evergreen Grass Band, Roe Family Singers, The Dead Pigeons, No Man's String Band
Evergreen Grass Band ~ 8pm
Deep in the Northwoods of Wisconsin a group of pissed off bluegrass pickers decided they wanted to change bluegrass for all mankind. They failed to do so. Now, they just continue their barnstorm of the Mid-West in hopes of one day to play a song so fast, that it actually disrupts the space-time-continuum. The EverGreen Grass Band was formed in 2008 over the course of many beer & whiskey fueled nights hosting the open mic at the Mousetrap Tavern in Eau Claire, WI. The 4-piece, including guitar, bass, banjo, & mandolin have been playing their distinctive and aggressive blend of bluegrass, punk, rock n' roll, jam & country with various members consistently around the Midwest for 5 years.
The Roe Family Singers ~ 6pm
The Roe Family Singers are a Good-Time, Old-Time Hillbilly band from the Mississippi-headwaters community of Kirkwood Hollow, MN. Led by wife & husband Kim Roe (Best Female Vocalist, City Pages/Village Voice) and Quillan Roe (Accident Clearinghouse), the band blends characteristic old-time sound with rock & roll urgency and influence. Joined by as many as seven musicians, and featuring banjo, autoharp, guitar, and washboard, the band and family of fans have been regularly filling Minneapolis' 331 Club every Monday night since 2005. In 2010 the band opened for both Doc Watson and Del McCoury, each playing at the Cedar Cultural Center; the Grascals at the MBOTMA Winter Bluegrass Weekend; and Jim Kweskin and Geoff Muldaur at the National Jug Band Jubilee in Louisville, KY. In 2011 the band was awarded the prestigious McKnight Fellowship for Performing Musicians, and has previously won the title of "World's Best" at the 29th annual Battle of the Jug Bands.
Dead Pigeons ~ 4pm
Americana at its finest every Tuesday at Harriet Brewing's Taproom.
Drew Peterson on guitar and vocals
Gretta Hunstiger on fiddle and backup vocals
Rich Casey and Bradley Smith on stand up bass
Ryan Canyon on mandolin
Travis Palmer on banjo
No Man's String Band ~ 2pm
Influenced by the classics and inspired by the modern, the No Man's String Band play their own concoction of the sound we all know and love. The band is comprised of guitar player Justin Rosckes, Nic Hentges on mandolin, accordionist Melissa Hentges, and bassist Pat Loftus.
Parking & Transportation
For your convenience, we have designated the parking lot to the west of the brewery on Snelling Ave as a free place to park. We strongly encourage carpools with designated drivers, otherwise there are many public transportation options as well – including the light rail, major bus lines, and a local taxi service.
Free Parking: In the parking lot on Snelling Ave. to the west of the brewery.
Bike Racks: Ride your bike to Sol Bock! We have bike racks on-site.
Light Rail: Two blocks west of the Brewery
Bus Lines: Only one or two blocks away from major bus lines.
Taxi: Yellow Cab is in the area or available by phone: (612) 788-8888
Be safe and please be responsible!