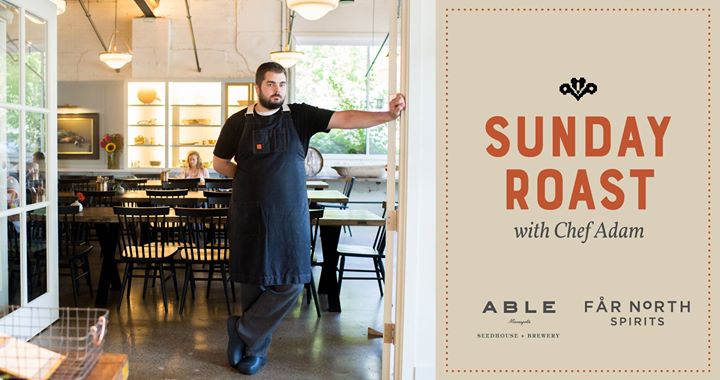 Join Chef Adam Vickerman and Able Seedhouse + Brewery for The Lynhall's inaugural Sunday Roast Series featuring Far North Spirits from Hallock, Minnesota. This special evening will present a three-course menu curated and crafted by Chef Adam, Able and Far North. The food will be paired thoughtfully with ABLE beer and Bittercube cocktails utilizing award-winning Far North Spirits.
This extraordinary event will take place in The Ambleside Room at The Lynhall. We'll stoke the wood-burning fire, dim the lights and cue the music while you mingle over local meat and cheese boards and a Far North Manhattan.
Warm-up with Chef Adam's Butternut Squash Soup and ABLE's Proper Pub Ale. Enjoy the Traditional Beef Roast with root vegetables, Yorkshire pudding, Far North's Rye 75 and ABLE's Seeded Ale. Top off this special evening with a trio of desserts from Pastry Chef Katie Elsing and an Espresso Boulevardier.
Be the first guests at this sure to be popular tradition.
$75 per person all-inclusive of tax and gratuity.
Limited to 50 guests. 21+ years of age.