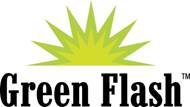 In January of 2009, Dawn and I few out of Minneapolis, leaving on a morning that the temperatures measured -20 degrees Fahrenheit and landed in San Diego, where temperatures were above normal. 80 degrees or so, actually. We decided to grab a beer at The Yard House that evening. Looking for something hoppy and local, I picked Green Flash West Coast IPA. Whether it was the beer or 100 degree temperature swing, I have fond memories of that 16 oz. pour.
Fast forward a few years and a few beers and starting in October, Green Flash will be entering the Minnesota market with the help of Wirtz Beverage. Drink up! Full press release below.
Green Flash Brewing Co. Partners with Wirtz Beverage Minnesota
Consumer favorite debuts in market; joins distributor's strong craft beer portfolio

St. Paul, MN – In an agreement announced today, Green Flash Brewing Co. and Wirtz Beverage Minnesota, will partner to debut the San Diego-based brewery's lineup of specialty craft beer throughout Minnesota.  Beginning October 1st 2013, Green Flash's award-winning portfolio including the brand's widely respected offerings West Coast IPA ™, Hop Head Red™, Double Stout and Le Freak™ will be available statewide in bottles and on draft. New, seasonal and specialty Green Flash selections such as Green Bullet™ Triple IPA and their Hop Odyssey draft-only series will also be distributed by Wirtz Beverage Minnesota. The addition of Green Flash to the distributor's strong craft portfolio will satisfy consumer demand for new and innovative West Coast style brews.
"Wirtz Beverage is committed to quality so we're really excited to bring these great craft beers to Minnesota consumers," said John Considine, Director of Beer Sales, Wirtz Beverage Minnesota. "Green Flash has a solid following in the craft beer community. Our experts, relationships and statewide reach will go a long way in helping them grow in the market.
Green Flash Brewing Co. was established in 2002 by the dynamic husband and wife team Mike and Lisa Hinkley, and is now one of the leading breweries in San Diego's thriving craft beer community. In 2004, renowned Brewmaster Chuck Silva joined the Green Flash team to develop the brand's lineup of signature brews including their West Cost IPA™, an award-winning beer that has helped define a category. The Green Flash lineup of premium, seasonal, collaborative and barrel-aged beers have found a niche in the craft beer market and the brand has a strong national following.  With added availability in Minnesota, Green Flash will be available in 43 states.
"Minnesota has been on our radar for years. But we knew that to be successful, we'd have to execute in the marketplace the right way," said Jim Kenny, VP of Sales, Green Flash Brewing Company. "Wirtz Beverage has invested in their beer division with a focus on Craft. The company has incredible infrastructure, great talent and a go-to-market strategy with success written all over it. They will be a strong partner for us as we enter the state."
Wirtz Beverage will support the Green Flash launch with kickoff events and ongoing activation in the on- and off-premise, including guided tastings, concentrated sales training and a variety of consumer events. Green Flash joins other acclaimed brands within the company's dedicated craft beer portfolio.
"Wirtz Beverage has a proven track record to ensure the success of their brands," continued Kenny. "They've done a fantastic job to support Green Flash in Nevada, and we see that same commitment here in Minnesota. We couldn't be more thrilled about our partnership or to share our great-tasting beers with even more craft beer drinkers."
About Green Flash Brewing Company
Green Flash Brewing Co. is located in San Diego, California, and was founded in 2002 by Mike and Lisa Hinkley.  Brewmaster, Chuck Silva, leads brewing operations. Green Flash is an award-winning brewer of fine, hand-crafted ales, and specializes in brewing assertive and distinctive beers, such as the nationally acclaimed West Coast I.P.A.: an award-winning beer whose wide acceptance has helped define a category.  Green Flash brews a variety of beer styles that are available on draft and in bottles as well as a growing lineup of seasonal and special offerings, including several barrel-aged beers, throughout the year. Learn more about Green Flash Brewing Co. by visiting www.greenflashbrew.com.