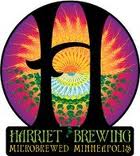 Harriet Brewing is celebrating their first anniversary at The Blue Nile on Jan. 27th from 4pm – 2am. They'll take over all 12 taps, highlight local artist & of course music.
Happy early birthday, Harriet. My partner in crime, Dawn, fell in love with Dark Abbey Dubbel on Friday at Pig & Fiddle. Details below:
Tap #1 – Elevator Doppelbock – Our traditionally brewed German-Style Doppelbock is being released for the first time at the Blue Nile on January 27th.

Tap #2 – East Side IPA – Our second brand spankin' new beer in January (Release party at the Groveland Tap on January 11. We've taken our flagship West Side Beigian-Style IPA and replaced all of the American hops with their European cousins and substituted Carapils for the Special B creating a beer that honors the floral, earthy, and spicy character of a traditional Belgian-Style IPA.

Tap #3 – Small Beer – You really shouldn't be drinking this one. This is our beer. We've made this sessionable Belgian-style brew from the second runnings of Elevator so that we can drink our own beer at the brewery and still be moderately productive. This is an extremely limited beer that will seldom see the world outside of the brewery, so get it while you can.

Tap #4 – West Side – Our flagship and your favorite Belgian-Style IPA.

Tap #5 – Divine Oculust – Our Belgian-Style Golden Strong Ale and one of our winter seasonals.

Tap #6 – Dark Abbey – Our Belgian-Style Dubbel and one of our winter seasonals.

Tap #7 – Coffee Elevator Doppelbock

Tap #8 – Orange Liquor Barrel Aged Divine Oculust
– Barrels from Alexis Bailly Vineyard

Tap #9 – Merlot Barrel Aged Dark Abbey
– Barrels from Alexis Bailly Vineyard

#10 -#12 – A whole bunch of one-offs and unique beers that are TBA!

MUSIC, ART & SCHEDULE
In addition to a dozen fantastic Harriet Brewing beers, we have a night full of entertainment lined up for our guests.

Flights of Harriet – 4 – 6 pm
Sample the different kinds of Harriet beer on tap till you find your favorite.

Jazz Band Super Combo – 6 – 9 pm
Featuring: Zack Lozier ~ Trumpet, Katie Gearty ~ Vocals, Zacc Harris ~ Guitar, Brian Ziemniak ~ Keyboard, Chris Bates ~ Bass, Joey Van Phillips ~ Drums

FLARED BASS COLLECTIVE – 8 – Close (under the Blue Nile)
Flared Bass is an intentional community of artists and musicians who come together to host events that get people's bodies, hearts and souls dancing. We create performance environments that allow our audiences to be visually stunned by our artists while our djs move their asses. Together we move their souls.
We are painters, storytellers, djs, aerialists, multimedia artists, musicians, and more.

i like you. – 10 – Midnight
i like you. has emerged as the darlings of the most vibrant independent music scene in the country. Wendy O' Sunshyne leads this group of talented musicians with her hauntingly beautiful voice, soulful songwriting, and ecstatic devotion to her primary instrument, the ukulele. Backed by a band of talented multi-instrumentalists featuring an eclectic blend of percussion, guitar, trumpet and acoustic bass i like you. delivers an energetic sound that evokes elements of folk, funk, and gypsy jazz.
alone – live @ the cabooze by ilikeyoumusic

TICKETS – $8
Admission tickets are available at the brewery and online. If the event doesn't sell out, tickets will be available at the door for $10.