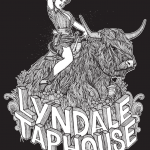 The Lyndale Tap House in Lyn-Lake is having a Brooklyn Beer dinner tonight (March 12, 2013) at 6pm. It's four courses and $40 – pretty reasonable, if you ask me.
Check out their Facebook page for more information and the tasty details. Call to make reservations: 612-825-6150.
And have you seen their new t-shirt design by Chuck U? It's almost as great as the stuff he did for Indeed.