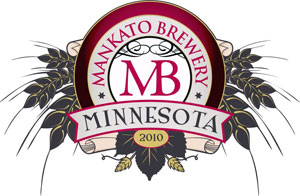 …and the first brewery born in 2012 is… Mankato Brewery. Thursday marks the launch of their first beer, Mankato Original.
Mankato Original (M.O.) is an homage to the traditional top-fermented beers of Cologne, Germany; it is light and refreshing with a crisp bitterness, delicate hop aroma, subtle malt flavor and a hint of fruitiness.
I'm curious to try it – I enjoyed Brewer Mike Miziorko's last Kölsch-style offering, the first in Summit's Unchained Series. For now though, it looks like the Mankato area gets first dibs on this one. Below you'll fine release events and accounts.
January 5th:
Number 4: 5PM-7PM
Tim Tupy, Co-Founder
Pub500: 5PM-7PM
Tony Feuchtenberger, Co-Founder
Mike Miziorko, Head Brewer
January 6th:
Patrick's On Third: 6PM-8PM
Tony Feuchtenberger, Co-Founder
Tim Tupy, Co-Founder
Mike Miziorko, Head Brewer
Jan. 5th Release Accounts
Big Dog Sports Café; North Mankato
Blue Bricks; Mankato
Buffalo Wild Wings Grill & Bar (Downtown); Mankato
Buffalo Wild Wings Grill & Bar (Hilltop); Mankato
Buster's Sports Bar & Grill; Mankato
Circle Inn; North Mankato
Hooligans; Mankato
Jake's Pizza; Mankato
Number 4; Mankato
Pagliai's Pizza; Mankato
Patrick's on Third; St. Peter (Friday 01/06/12)
Pub 500; Mankato
Red Sky; Mankato
Rounders; Mankato
Spinner's Bar; North Mankato
The Tav On The Ave; Mankato
Wine Café; Mankato