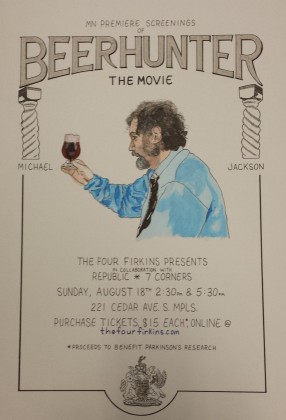 Beer dorks… if you're not familiar with the only Michael Jackson that mattered (the English beer writer, not the pop singer with the Peter Pan complex), someone should probably slap you. Jackson wrote a number of influential tomes on the subject of beer and advocated the enjoyment of great beer long before most of us even cared. Jackson was influential and engaging and was a luminary that would give most "beer personalities" a run for their money if he were still alive.
"Michael's engaging writing literally saved many styles of beer from extinction, and his work inspired an entire generation of brewers to experiment with beer styles from around the world."
Heavy stuff. In any case, this film documents his personality and his travels, among other things, in the mid-00s. If you've ever had the pleasure of meeting the man in person or if you caught him on television, you'll know his charm. If not, let's just say that you should check it out this Sunday.
On a side note, Jackson was a fan of Minnesota's beer, featuring Summit's Great Northern Porter on the cover of his book "New World Beer Guide," and singing praises for the long-defunct Sherlock's Home brewpub (See "
Hate the Pun, Love the Pub.
") among others.
Republic at Seven Corners hosts two shows on Sunday, August 18th (2pm and 5:30pm). Tickets are $15. Jackson dealt with Parkinson's in the latter part of his life and fittingly, proceeds from the show and a silent auction will go to support to support a Parkinson's charity. Tickets and details below:
http://thefourfirkins.com/events/events-detail.php?id=5927