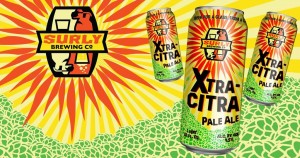 Surly just released Xtra-Citra Pale Ale into the market in 4 packs of 16 oz. cans. The beer itself is bright and beautiful with big citrus notes and a very crisp, clean finish to go along with a very low ABV of 4.5%. Perfect for all that grilling you'll be doing when the weather cooperates. The best part though may be that you can find this for $6.99 a four pack which is a very approachable price point.
Firkin Fest is happening at The Happy Gnome this weekend. This is always a really fun event and it takes place from noon until 4 PM on Saturday, April 2nd with tickets going for $60. Expect some fun brews that you can only find at this event. Grab your tickets here.
Modist Brewing is set to open in mid-April in the North Loop. Stay tuned to the blog for a sneak peek most likely happening next week. I have high expectations for them given their pedigree and passion for making beer.
I'm hearing rumors of the return of Sticker Fight at Steel Toe Brewing. This tropical hop bomb of a Double IPA is one of my favorite seasonal releases and it usually sells out pretty quickly. Stay tuned for more details….
Indeed Brewing is collaborating with New Belgium on a couple of beers they are calling Come Together Honey Wheat Wine, and Strawberry Fields Sour. Come Together will hit shelves first (this was brewed in Fort Collins recently) in very limited quantities (expect an April release) and the sour will be brewed at the end of April here in Minneapolis. I will be there on the brew day and will be sure to post some photos and such.
That's it for now.
Cheers!