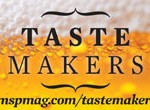 Stephanie March and Dara Moskowitz Grumdahl from Mpls. St. Paul Magazine are hosting a Tastemakers tribute to local craft beer on Tuesday night at the Ritz Theatre in Northeast Minneapolis from 6-8pm. Tickets are $10 and include appetizer and beer samples as well as great conversation with four players in the local beer scene who all have great stories to share about their history in the brewing world and the breweries that they represent. I've personally had the pleasure of sitting down with all of these guys and suffice to say that this event gets my shining endorsement.
Todd Haug, Surly Brewing
Damian McConn, Summit Brewing
Joe Pond, Olvalde Farm & Brewing
Jason Schoneman, Steel Toe Brewing
Cash bar, too, in case samples aren't enough. You can purchase tickets here or at the door.
Plus, if you get your act together before Monday, you can have a chance to win tickets. Go here, read a bit more about the event and add a comment with a Minnesota beer that you love. And just so we're clear, you need to comment on Dara's blog in order to win tickets. Comments with your favorite Minnesota beer on this site are always appreciated, but won't get you any tickets.
Cheers!