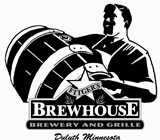 I wish I had time to visit Duluth and the Brewhouse…
Brewhouse Beer Releases:
Amsterdam Ale – hybrid pils/pale Belgian style beer. Soft pils notes with strong fruit esters and a dry finish [this beer is well-loved by at least some of the MNBeer.com staff]
Cask Brewhouse Pub Ale – English style light cream ale
Red Star & Burrito Union Beer Releases
Farmhouse Special Reserve – Farmhouse is a Belgian style saison ale. Fermers and rural folks traditionally brewed saisons in the spring for fall and winter drinking. We brewed our Farmhouse as holiday ale this year, adding ginger, coriander, grains of paradise and sweet orange peel. The light color and body hides a complex beer with many flavors and a dry finish.