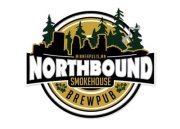 In case you didn't catch this yesterday, Northbound Smokehouse Brew Pub has announced that they'll be having their Grand Opening on  Thursday, September 20th!
The Heavy Table had a nice quick rundown on the place the other week, check it out.
Hours:
Sun-Thurs 11am-1am
Fri-Sat 11am-2am
2716 East 38th Street, Minneapolis, MN 55406
I had a chance to try their Big Jim IPA this weekend at Autumn Brew Review and thought it was solid. I'm curious to try a larger sample soon.