Could you share a little background on your history with Fitger's Brewhouse, and for that matter, brewing beer in general (homebrew and/or professional)?
In the mid eighties I got a job at a high-end liquor store that stocked about every microbrewery available at that time in the U.S. So at a young age micros and imports were the only beers to pass my lips. This shaped my opinions and perceptions about beer early on. The next step was homebrewing which I started doing in 1990 in San Franciso. Craft brewing was exploding in the Bay Area at the time and I had dozens of fine examples to try to emulate as an all-grain homebrewer. I started hanging around breweries and doing free manual labor at a couple to try to learn more. One year I gave all my friends homebrew for Christmas and the response was so positive I started thinking about a career in brewing. I attended Seibel in Chicago then apprenticed at Goose Island brewery. I returned to San Francisco and made the rounds, applying at 40 breweries total. My main focus and goal was getting a job at Anchor. This did not happen and instead I was hired at the new Pyramid plant in Berkeley. I spent 5 years there as the lead brewer and then had the opportunity to take over for my brother at Fitger's Brewhouse. My wife was born and raised in Duluth and our first child was about 1 and we decided the quality of life and proximity to family, as well as the creative aspect of running a small brewery made it a good fit.
I took over for Mike (my brother) January 2000 after a one-month pass down from Mike. I quickly began brewing what I had been trained to brew, hop-centric ales that had not gained a big following at the time. Years have passed and as my tastes have changed and matured I now brew about 120 different North Shore style ales and lagers per year. About 33% well hopped 33% lagers and wheat beers, and 33% strong, dark  and experimental beers.
What was the first Minnesota-made beer to pass your lips? How about the most recent (aside from one of your own, of course)?
On this question I'm not sure… I know the first Minnesota beer I fell in love with and sang from the highest hills about was Summit. Particularly EPA and Sparkling Ale. The most recently Minnesota made micro I tried was Alter Ego at Town Hall on my way out of Minnesota for the holidays.
Now we know that you've collaborated before (Cherry Grand Cru right?), but is there a competitive streak between you and your brother Mike? Do the two of you share recipes or swap ideas? Steal each others' ideas? Anything in the works?
Yes, Cherry Grand Cru (1/2 Brewhouse Cherry Batch, ½ Town Hall Grand Cru, wine barrel aged for 1.5 years then oak aged with cherries added for another 6 months… fun beer.) I would not say a competitive streak because Mike brews a bit different then me and he also has the mantle of the most decorated pub brewer in Minnesota which he richly deserves. We do have an odd habit of brewing similar seasonals at the same times without ever speaking to each other about the beers. We do almost no recipe swapping we do share ideas over pints when we see each other. I would say I have a bit more over the top style sometimes, were as Mike makes very structurally sound beers.
What's your favorite beer from the massive Brewhouse library?
I get this question very often; my canned response is the one in my hand. Truly my all time favorite is Starfire Pale Ale, my take on what a pale should taste like. Number two is Timmy's Edelstoff a Munich style Export Helles and number 3 is French River Hefeweizen an amber hefe.
Any required brewhouse music? Anything banned from the brewery?
Now this sounds a bit like a loaded question… [It wasn't, but what the hell… -ed.] I will say about 8 years back a certain hop and malt supplier (that is tall) and a fine young brewer (now at New Belgium) forced me to pull the plug on the Dead.. they know why. That being said we would have to put Cash, Marley, Neil Young  and Zeppelin on the required list.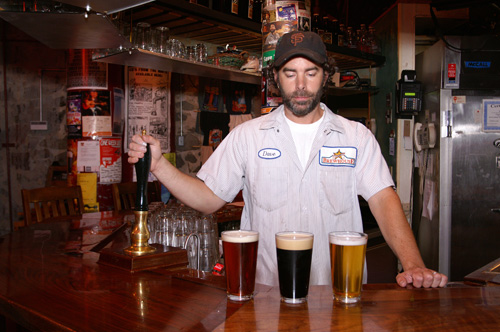 If you could change one thing about the beer scene in Minnesota, what would it be and why?
That is a tough one. The nature of business, changing times and self-interest have made it almost impossible to work as a united team in the craft industry. I would say I Iook forward to working to change the restrictive and unfair laws that constrict the largest to the smallest craft brewers in this state.
One other comment, the beer scene in Minnesota has grown 50 fold in the last ten years with more and more folks in and out of the state recognizing the well-made unique offerings we put out. I think sooner rather then later we will all have more opportunities in the free market to bring us an even greater market share in the next 10 years.