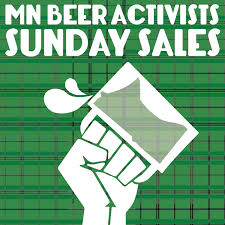 Blue Laws are old, outdated and really don't reflect today's consumers. As a kid growing up in west-central Minnesota, I was always surprised by the number of North Dakota plates we'd see at our puny mall on Sunday afternoons. Though I didn't really understand it at the time, our neighbors to the west were strapped by Blue Laws that kept them from buying a lot of things on Sundays. That's always struck me as silly.
You know what else is silly? The fact that you can't buy a nice six-pack of beer or a growler on a Sunday in Minnesota. As a life-long Minnesotan, I've learned to deal with the law as it stands, but I've never found it to make much sense. I can buy 3.2 beer at gas stations and grocery stores on Sunday. I can go to a bar or restaurant and have a beer on Sunday, too. Hell, I can buy wine at a farm winery in Minnesota on a Sunday. So why, oh why can't I buy a growler or a six pack on a Sunday?
Minnesota Beer Activists are working to change things. On Monday, they're putting on a concert at First Avenue in Minneapolis to help raise money for their efforts to legalize Sunday Sales. The event will feature the music of Romantica, White Iron Band, Silverback Colony and Mark Andrew. We're pretty sure no green beer will be present and no one will ask you if you're Irish. C'mon down, rock out and support a good cause.
Tickets are $10 in advance, $15 at the door.