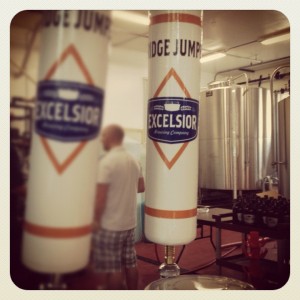 Excelsior Brewing Company is hiring an Area Sales Manager/Sales Ambassador. Think you're up for it? Read on!
The Area Sales Manager represents the face, voice and part of the brain trust behind making Excelsior Brewing synonymous with craft beer in Minnesota. Primary focus centers on increasing the sales, recognition and reach of EBC. You will plan, organize, and control sales functions from conceptual state through distribution cycles to optimize profit and meet marketing, financial, and corporate growth objectives. You will establish new accounts and make sure existing accounts feel a connection with the brewery. Relationships are key and ensuring our restaurants, bars, liquor stores and distributors feel the love will be a key measure of success.

In addition to maintaining accounts and adhering to quota's, responsibilities will include attending standard beer festivals, hosting beer dinners, tastings, tours, promotions, You need to have the beer knowledge and presence to engage a roomful of curious diners at a beer dinner. You need to be able to do the set up (kegs, jockey boxes, display) at beer fests and then enthusiastically represent the brand. A sincere passion for the industry and EBC are a must. You will be asked to cover a tap room shift, fix a line, speak to local media, play a role in our social marketing presence, provide input to the brewers, and manage projections and inventory.

Craft beer in Minnesota is quickly becoming some of the best in the country. Our local roots and origin are the foundation for more national recognition as our capacity increases. You have to bring a great reputation or be hungry to build one within our community. We believe in collaboration and wouldn't be here without the local and national pioneers we model our business after. Your understanding and insatiable knowledge appetite of the craft beer market will weigh heavily in our selection.
Excelsior Brewing Company opened the doors in July of 2012. We are located in a cool lakeside community on Lake Minnetonka. Our brewery and tap room are right downtown and within a seven iron of eight restaurants. Up until now, we have operated in roughly 3,000 sq ft for the brewery and tap room. We brew on a custom built JVNW 20 bbl system with 20 and 40bbl tanks in the cellar. We are currently in the middle of a major expansion where we will triple our current space and quadruple our brewing capacity. We've purchased a Moravek rotary bottle filler which arrives in April of this year. We have ten new cellar tanks being built by JVNW to be delivered in March.

Ideal candidate will have a Bachelor's Degree from 4 year college or university; or 2 years related experience and/or training; or equivalent combination of education and experience. Candidate will have a passion for craft beer as well as being well-connected to the craft brewing community and craft beer marketplace. Must have valid driver's license and vehicle insurance in good standing.

If you are interested in this awesome career opportunity and have 2 or more years of proven industry sales experience, we want to talk with you!

Email resume and salary requirements to: jklick@excelsiorbrew.com
No phone calls please. Not one.

Excelsior Brewing Company is an Equal Opportunity Employer
and committed to workforce diversity.