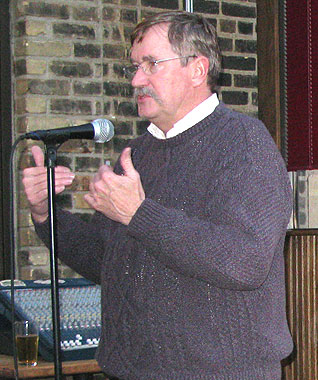 I went to Stub & Herb's second beer tasting last night with my co-worker Scott and a couple of his friends that were eager to taste some great beers. The game room was once-again filled with 20-30 (?) people. We had a special guest that evening – Ted Marti from Schell's. I had assumed that a brewery rep. or perhaps our buddy Dave would be talking, and that would have been just fine, but I thought it was very cool that the CEO of the second-oldest family-run brewery joined us. Lots of good beer (Original, Dark, Pilsner, Firebrick, Stout, Maibock and Einbecker Doppelbock), lots of good questions (I'll get to that in just a minute), some good food (German sausage, sauerkraut and soft pretzels) and of course some great information for the beer geeks.
The questions… in case you're curious – if forced to choose, Ted would pick the Pilsner as his favorite Schell's beer. AND… drum roll here… the next anniversary beer is a dunkel. Details to come.
To finish out the night, Stub & Herb's served two bonus beers. In order to win some prizes, we had to identify the beers from Stub & Herb's selection. I knew one – I'd enjoyed it the night before, Avery's Collaboration Not Litigation – but I couldn't place the other. I knew it was pale, somewhat fruity, hoppy, biscuity… Left Hand Sawtooth Ale. Four people (myself included) took some nice prizes home from Schell's and Stub and Herb's.
Thanks to Jon and Stub & Herb's, Ted and Schell's and everyone who showed up. I see great potential in this series! Look for Bell's and Ommegang at future events.