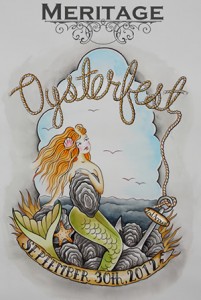 Just a reminder that Summit Brewing Company will launch their Oyster Stout during Oyster Fest at Meritage in St. Paul this Sunday, September 30th. I was there last year for the festival (and Lift Bridge's Oyster Stout) and it was a blast! It's funny how similar the oyster-head world is to the craft beer nerd world when it comes to getting the highest quality and regionally interesting products… and bragging rights for sampling them. (Check out this episode of Brewing TV to see last year's brew day at Lift Bridge and the 2011 festival-in-action at Meritage).
This time around, Summit had the honor of making the festival beer. Whether you're an experience bivalve-lover or new to the game, it's a great way to explore the world of oysters while enjoying this new beer. Meritage says this about Summit's Oyster Stout:
Summit Brewery will launch their Oyster Stout, inspired by and made from our very own oyster shells. In first discussions the brewers are thinking a British perspective and tradition might be an interesting way to go. Enjoy your pint, and even join us at the pairing station to learn about the beer, its process and pairing oysters with it.