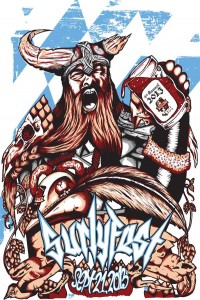 …and I'm working. I only work a few weekends a year and inevitably, said weekends conflict with fun beer events. What's more, Dillinger 4 is making one of their rare appearances at the event and they play some of the best beer-fueled, knee-your-friend-in-the-balls sing-along punk rock in all of Minnie-apple. But wait, there's beer… and artwork.
At right, the latest from Jawsh, this year's SurlyFest design. Check it out, broken horns and all. We promise there's no deer blood in the SurlyFest, though I suspect that this fine bearded gentleman would be just fine with a dose plasma in his stein.
Back to details. Surly Brewing Company's 6th Annual SurlyFest takes place on Saturday, September 21st from 2pm – 6:17pm (yeah, I don't get it either) and will feature live music, food trucks, and, get this… beer. Your ticket price gets you a half-liter SurlyFest stein and four beer tickets.
For the moment, some tickets are still available. ($45) Click away if you want them…  http://bit.ly/SurlyFest or hit up the brewery Taproom (Wednesday-Friday: 3:00-9:00 p.m., Saturday: Noon- 9 p.m.).
Bands:
2-3pm: Alpensterne a.k.a.The Bratwurst Bros.
3-3:30pm: DJ Shannon Blowtorch
3:30-4:30pm: Crankshaft and The Gear Grinders
4:30-5:15pm: DJ Shannon Blowtorch
5:15-6:15pm: Dillinger Four
…that pirate looks familiar… If you've never had the pleasure of seeing Dillinger 4 play, check them out. I first saw them (yikes!) in 1995 when a friend (having never heard the band) booked them in our hometown of Fergus Falls and they tore the place down. Beware SurlyFesters, beware.