This sounds like a lot of fun – from June 17-23rd,  Brooklyn Brewery brings a roster of parties, comedy, concerts, pop-up supperclubs and readings to the Twin Cities, all featuring "humanity's favorite beverage."
"The Mash is an expression of Brooklyn art, music, food and the cultural links we see with many cities around the world," says Brooklyn Brewery President & Co-founder Steve Hindy. "There is a revolution happening in the world of food and the world of beer, and we are happy to celebrate this revolution with our friends around the US."
NYC food and art organizations have been closely linked to Brooklyn Brewery from the beginning. Be it a beer dinner, cook-off, concert or film festival, the ethos of these happenings has consistently mirrored the consideration and creativity behind the making of The Brewery's beer. Paired with the flavor and flair of Brooklyn, classic nightlife is re-imagined as a more interactive experience. During The Mash, participants will enjoy an array of perennial and rare Brooklyn beers.
Helping color in The Mash, NBNY, the organizers of Brooklyn's Bring to Light festival, will create their immersive installations of light and projection art throughout the tour. Continuing Brooklyn Brewery's long tradition of giving back, proceeds from every ticket sold will go to The Land Stewardship Project, a nonprofit dedicated to creating transformational change in our food and farming system by fostering an ethic of stewardship for farmland, promoting sustainable agriculture and developing sustainable communities.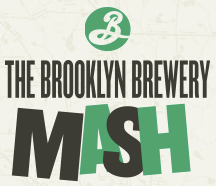 Tue, June 18–Fri, June 21, 5-7pm; The Happy Gnome; 498 Selby Ave, St. Paul, MN
Brooklyn beer specials, new and special offerings, cheese pairings, giveaways and info on all things Mash.
Wed, June 19, 7pm; Haute Dish; 119 Washington Ave, N Minneapolis, MN – $85
Multi-course beer dinner celebrating local cuisine, interpreted 2 ways: by Chef Landon Schoenefeld of Haute Dish and Brooklyn Brewery House Chef Andrew Gerson.
Found Footage Festival: Best of The Midwest
Thu, June 20, 8pm; Heights Theater; 3951 Central Ave NE, Columbia Heights, MN – $12
A hilarious show that features footage from videos that were found at garage sales and thrift stores and in warehouses and dumpsters across the country. The "Best of The Midwest" edition will feature footage found exclusively in MN, WI, MI and IL. Special guests from videos harvested in the Twin Cities will appear live at the show.
NY Night Train Soul Clap & Dance-Off with DJ Mr. Jonathan Toubin
Thu, June 20, 11pm; Turf Club; 1601 University Ave NE, Minneapolis, MN – $7
Compete for a trip to New York for the Dance-Off championship at Brooklyn Bowl and $100 cash prize after getting warmed up with the exquisite 1960s soul 45s of world famous Brooklyn DJ Jonathan Toubin. Must be 21 years of age to win.
Sun, June 23, 10:30am; 312 East Lyndale Ave N, Minneapolis, MN 55405
The Brooklyn Brewery House Chef will be cooking up some of his favorite finds from the market. Stop by for cooking and beer pairing tips.
Sun, June 23, 4pm; for location details, go to 
ChaosCooking.com
 – Free
A stalwart citizen opens their kitchen for a dinner party where all the guests are cooks. Each attendee brings the ingredients and everyone cooks together. Dishes are passed around, and there's plenty of Brooklyn beer to enjoy.
Mash Specials
Every installment of The Mash is custom tailored to the cities it visits.
Go to BrooklynBreweryMash.com for info on the rest of the tour.