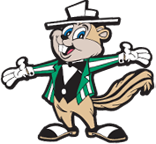 In case you live under a rock, the Minnesota State Fair started Thursday. St. Paul, can I get a collective "Oh shit!"? I used to work on Energy Park Drive and always cringed in the days leading up to the Fair. My company usually had a flood of last minute creative and print work for one of the broadcasting companies AND traffic absolutely sucked. I still can't figure out why some people choose to go to (or leave) the State Fair during rush hour. Dumb, dumb, dumb.
Hungry? Look no further than
HeavyTable
(
Twitter
) for State Fair food information. You really don't need to go anywhere else. Seriously. Stop typing.
Thirsty? Here are a few of our suggestions. Do you have your own? Leave them in the comments.
Fair Exclusives: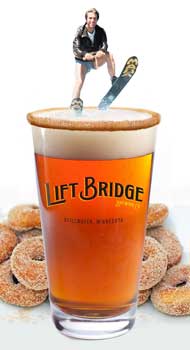 Lift Bridge's Mini Donut Beer
Our friends at
Lift Bridge
have produced what is said to be the first-ever mini donut flavored beer. The fruits of the brewery's labors will be available exclusively at the Ball Park Café.  Expect a malty sweet sipper that weighs in at about 5% abv. Mini-Donut will be served in a glass rimmed with cinnamon and sugar. Suggest pairing: Mini-donuts. Duh. And while it's been suggested that perhaps Lift Bridge "
jumped the shark
" with this one, we tend to think that it sounds tasty enough to try before passing judgement.
Summit State Fair IPA
This beer was brewed by our good friend Jeff Williamson. This beer is full of great Minnesota ingredients like wild rice, honey, pronto pups corn and Cascade hops from Hippity Hops Farms. Look for it daily at the International Bazaar. 95 IBUs and 5.5% ABV.
Great Beer Destinations:
Ball Park Café
The Ball Park Cafe is essentially the Minnesota State Fair's very own craft beer bar with a strong focus on local beers. It's the only place that you'll find the aforementioned Lift Bridge Mini Donut Beer and this year they're making onion rings with a beer batter made with Indeed's Day Tripper Pale Ale. Other craft beers at the Ball Park Café include Surly Furious, Bitter Brewer and Hell, Lift Bridge Mini Donut, Hop Dish and Farm Girl, Bent Paddle Black Ale, Third Street Jacked Up, Steel Toe Size 7, Mankato Original, Excelsior Bitterschaple, Badger Hill White IPA, Lucid Dyno, Indeed Day Tripper & Midnight Rider and one out-of-towner, Stone Arrogant Bastard Ale.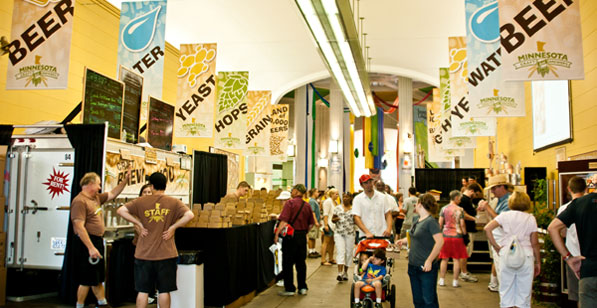 The Land of 10,000 Beers
The Minnesota Craft Brewers Guild returns to the Agriculture/Horticulture building with an expanded "Land of 10,000 Beers," featuring beers from 26 Minnesota breweries. Once again the exhibit will showcase craft brewing in Minnesota with brewers, displays and presentations throughout the duration of the Fair.
This week's presentation schedule:
Thursday, August 22
3pm – Getting to Know the Guild: Clint Roberts, Guild Executive Director
6pm – Beer Tourism: Dan Justesen, Guild President, Vine Park Brewing Co.
Friday, August 23
3pm – Member Showcase: 612Brew, Indeed Brewing Co.
6pm – The Art of the Cask: Tony Digatono of Great Waters Brewing Co.
Saturday, August 24
Noon – Homebrewer Award Program
3pm – Primary Fermenter Showcase
6pm – Member Showcase: Surly Brewing Co., Fulton Beer
Sunday, August 25
Noon – A Historian's Perspective: Craft Beer with Doug Hoverson
3pm – Minnesota Hop Star: The U of M's Charlie Rohwer, Ph.D.
6pm – Member Showcase: Third Street Brewhouse, Boom Island Brewing Co., Flat Earth Brewing Co.
Tracking Down Your Favorite Beers:
Summit Brewing Company's State Fair Guide
Fulton Brewing Company's State Fair Guide