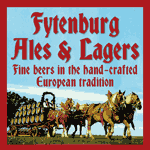 Join Fytenburg Brewing Company at The Muddy Pig Wednesday, April 10th from 5-7pm  for the official launch of Fytenburg Grand Cru, affectionately known as "The Wedding Beer," and Grand Cru Blanc. To kick off the celebration, Father Dan Haugan of the Church of the Holy Spirit will bless the brews. After the blessing, chat with brewer and owner, Tod Fyten, and enjoy all that the Muddy Pig offers with some "Wedding Beer" on the side.
The "Wedding Beer," St. Paul's Original Belgian Style Beer, is a smooth, Belgian Abbey Ale, first brewed nearly 24 years ago for the wedding of Fyten.
Fyten's good friend and business partner with Brewers Digest Magazine, Mike Urseth says, "What does this beer taste like? It tastes like more. Both Grand Cru and Grand Cru Blanc are blessed with that 'I'll have another one' flavor".
For more information, check out the Brewery at www.fytenburgbeer.com, on Facebook at www.facebook.com/FytenburgBrewingCompany or on Twitter at twitter.com/FytenburgBeer