Hazy, juicy, funky, fruity, milkshake glitter.
These features don't often interest me when it comes to beer, but they would make for an interesting My Little Pony. IT seems new releases lately are either riding the trend (who can blame them) or are shifting to lighter, summer-themed styles, so when I saw last week that Tin Whiskers had released Waveform, a West Coast IPA, my interest was piqued.
"Why now?" I thought.
"Why not?" my inner monologue continued. "You like this style, so stop asking questions."
It seemed a break from the norm. Hazy IPAs are de rigueur [Tin Whiskers actually released their own – Distortion – not too long ago] and while I like Pilsners, Kölschs and hefeweizens, they aren't my go-to styles. This release seemed to be speaking to me.
Not one to look a gift horse in the mouth, I bought a four-pack of Waveform. Here's my impression: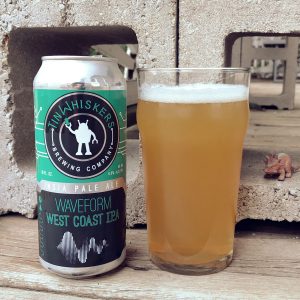 Tin Whiskers Waveform
West Coast IPA
ABV – 6.3%
IBU – 80
Aroma: Bright and citrusy hops up front. Not heavy, no indication they've used spicy or piney hops.
Appearance: Pours clear and light gold – a good sign based solely on my preferences.  
Flavor: Light, citrusy hops for a moment and then you're hit with a hammer of piney, bitter hops. The Mosaic hops are noticeable but don't dominate the way they can in other beers. This flavor lingers and you all but forget there was a citrus note at the beginning.
Mouthfeel: Clean and dry. No sweetness hanging around. This is surprisingly drinkable for being as hoppy as it is.
Overall Impression: Really a bold take on the West Coast IPA – which I would expect to be clear, dry and featuring hops with pine notes. This fits the bill and takes the hoppy part to the limit.
This is definitely my favorite IPA from Tin Whiskers, a spot formerly held by the previously mentioned Distortion. They've quietly been making some pretty solid new beers, in my opinion. Waveform is in stores and in the taproom right now, so enjoy it while it lasts.