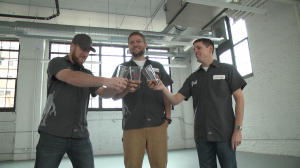 After a soft opening in May, Jeff, George and Jake at Tin Whiskers are ready to host a Grand Opening celebration this Thursday June 5th.  Join Saint Paul Mayor Chris Coleman for the ribbon-cutting at 4:00, then take in the sounds of the Brian Boru Irish Pipe Band while you sample some new brews with a chance to win some merchandise.
As Minnesota's open-source brewery (their recipes and how-to's are available on their website, twbrewing.com) they're encouraging interaction and interpretations on their processes, so be a participant and help them kick off of their contribution to downtown Saint Paul.
Tin Whiskers Brewing Co.
125 E 9th St.
St Paul, MN 55101