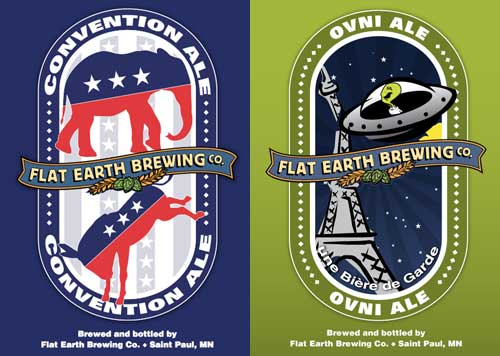 Flat Earth has two new beers hitting the stores on Friday – Convention Ale, a Belgian red and Onvi Ale, a Biere de Garde.  Here's the lowdown on each beer.
Convention Ale is Belgian red ale. We combined a lot of different ingredients to make this beer. Made with American, English and Belgian malts, English and German hops and Belgian yeast. Very refreshing, smooth and easier to swallow then the up coming election cycle and you'll still want more of it later. At 5.5% abv you can enjoy more then one.
Ovni Ale has a substantial and complex malt profile with flavors of toffee and caramel and a restrained hop bitterness. The beer is very smooth and deceptive at 7.1% ABV. Brewed in the spring to get you through the summer. The high amount of carbonation keeps this beer light on the palette and refreshing.