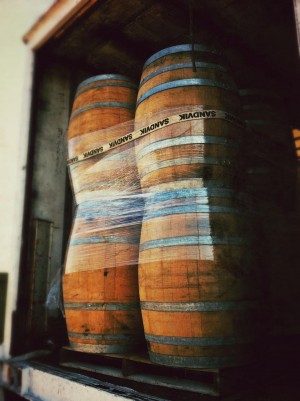 Barrel aging beer has been a buzzworthy topic over the course of the past couple of years. Bourbon. Whiskey. Rye. Sake. Wine.
A little secret? Some of my very favorite barrel-aged beers have spent time in wine barrels. Offerings from Fitger's Brewhouse, Minneapolis Town Hall Brewery and Russian River quickly come to mind, though I have no doubt I've run across others that have wowed my tastebuds.
Needless to say, seeing today's newsletter from Harriet Brewing caught my eye. I think some of their Belgian-style beers will definitely meld well with a little time in wine barrels.
Patience, padwan. From the sound of it, we shouldn't expect anything until later this year or even 2013.  I'm looking forward to it.
Read the full text of their newsletter here. There's mention of a number of events at the brewery including the release of their Oktoberfest on September 19th at the brewery. Check it out.