Fulton celebrates the grand opening of their taproom Saturday at noon. Drink up buttercup!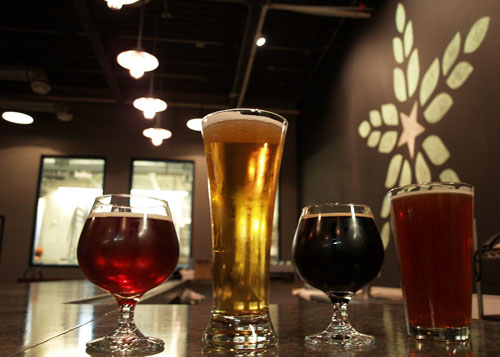 Update: more details from Fulton.
At noon on Saturday, March 10, Fulton Beer will open the first brewery taproom in Minneapolis. The taproom, located two blocks west of Target Field, will serve glasses of beer just steps away from where it was brewed. The grand opening menu will include Fulton's Sweet Child of Vine, Lonely Blonde, and Worthy Adversary on draft, as well as food from the Barrio truck.

In the upcoming months, Fulton will brew taproom-exclusive beers to pair with order-in options from neighborhood restaurants and food trucks. The taproom will be open limited hours (3-10 pm on Fridays and 12-10 pm on Saturdays) during March, with days and hours expanding in early April to coincide with the Twins home opener.

Until the Minnesota legislature's 2011 passage of the "Surly Bill", Minnesota packaging breweries could not sell beer for consumption on brewery premises. The new state law and a similar ordinance passed by the Minneapolis City Council and Mayor RT Rybak will help Fulton and other small craft brewers increase production, attract new customers, and build Minnesota into a beer tourism destination.

Fulton Beer was founded by four homebrewers in a South Minneapolis garage in 2009 with the mantra "Ordinary Guys Brewing Extraordinary Beer." Fulton's beers are available on draft and in bottles at over 400 locations throughout the Twin Cities. In addition to on-premise sales, the taproom offers "growlers", 64 oz refillable vessels of draft beer. Brewery tours will be available in the near future. Information regarding hours of operation, beer availability, tours, special events and more can be found at www.fultonbeer.com.