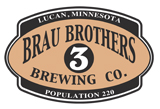 Here's the Winterfest line-up from Brau Brothers Brewing. Also note that the logo and recipe for their third Single Batch Series is finished. Watch MNBeer.com for more details!
Frame Straightener – Named for the vehicle chasis straighteners that Lucan exported for many years, this second installment of the Single Batch Series is an authentic Belgian-Style Pale Ale.  100% imported Belgian malt paired with Strisselspalt hops and finished with a classic strain of Eastern European yeast, this is a fruity, earthy, yet drinkable beer.
Scotch Ale – The Brau Brothers flagship ale.  A small percentage of peat-smoked malt gives a distinctive flavor to this beer.  Big malt, easy on the hops – a prairie take on a great winter sipper!
Dubbel – Pulled from the Brau Brother's cellar, this ale has been aged 4 years for an incredibly smooth drink.  Starts with dark chocolate and caramel, then gives way to black licorice and cocoa powder.  Finishes big and malty.