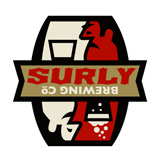 From the Surly Website:
Surly Two will be released in a couple weeks to local bars. We have been slammed here at the brewery with the new construction project. The release of two at the Blue Nile was a sneak peek. We will post here when the beer hits the streets to local bars.
Oh yeah, we filled about 400 750s of two.