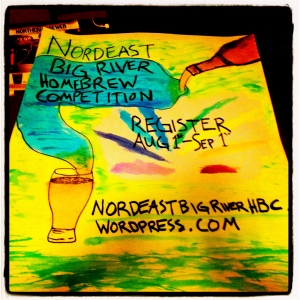 Registration is OPEN for the Nordeast Big River Homebrew Competition. From Aug 1 – Sep 1 you can register for this BJCP/AHA competition being held in Nordeast Minneapolis!
Sponsored by the Nordeast Brewers Alliance, in conjunction with the 2nd annual NordeastBig River Brew Fest, the competition  is open to all BJCP beer styles, as well as two special categories: 100% Brett (Beers brewed with only Brettanomyces) and American Wild Ale. This competition has an emphasis on the funk!
Entries are $7 each, and can be dropped off at Northern Brewer or Midwest Supplies in Minneapolis before September 15.
Register at nordeasthbc.brewcompetition.com. Judges and stewards are needed aswell. Contact tylerabye@gmail.com with any questions.