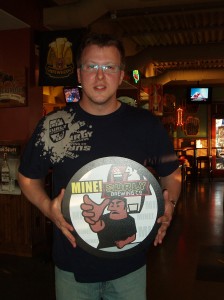 Congratulations to Chad Jeske, winner of the Surly Coaster Contest!
Chad's name was announced last night at Old Chicago in Eagan, where the design was submitted. In addition to Bender and Furious on tap, there was also a pin of Ashy Cynic for the Surly Nation to enjoy.
For his effort, Chad's design will appear on 100,000 coasters at the Twin Cities finest drinking establishments. Plus, and this is a biggie, a 15 gallon keg of his favorite Surly beer.