The Electric Fetus and Dangerous Man Brewing have teamed up again for a full day of music and beer on Saturday, May 21st from noon – 10 pm in the parking lot behind the brewery. This year the beer garden will only be serving Dangerous Man beer (last year they teamed up with a few breweries to serve their beers as well) which will include the highly anticipated collaboration beer they made with Surly called Blutpakt.
The food truck lineup is fantastic with the highlight being the BBQ truck Bark and the Bite. Rumor has it that they may just be selling chicken quarters right out of the smoker on Saturday. Oh, also….Chocolate Milk Stout makes for an excellent accompaniment to your breakfast.
Music lineup at Dangerous Man:
12:15 pm Tony Peachka
1:15 pm Still Pacific/Shellycoats
2:15 pm Driftwood Pyre
3:15 pm Rabbit Holes
4:15 pm Tiny Deaths
5:15 pm New Years Steve
6:15 pm Frankie Teardrop
7:15 pm Mike Mictlan
8:15 pm Forever Young Dance Party
Food Trucks:
Hot Indian Foods
Bark and the Bite
O'Cheeze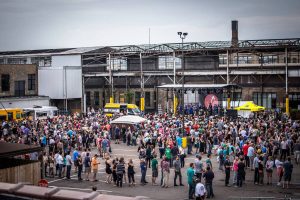 Bauhaus will be hosting The Liquid Zoo which kicks off Friday, May 20th with the "Haus" band Viva Knievel. On Saturday Andrea Swensson from The Current will be there to get things going before a lineup of Jeremy Messersmith, The 4onthefloor, and Sonny Knight and The Lakers take the stage. That's one hell of a party…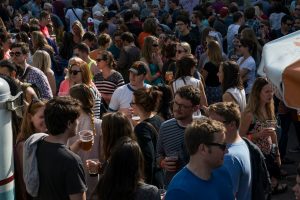 Indeed will be hosting Whirlygig again and the big highlight will be Charlie Parr who is performing on Sunday, May 22nd at 5 pm. Nate Dogs will be on site slinging wieners along with Blue Door Pub throughout the weekend. The event goes Friday, May 20th through Sunday, May 22nd.
Grumpy's will have the best music lineup on Saturday, May 21st with Babes in Toyland headlining a set that features Romantica and Mississippi Hot Club. Brian Oake from 89.3 The Current will be the emcee for the day. NE Tattoo will be on site in case you want some ink.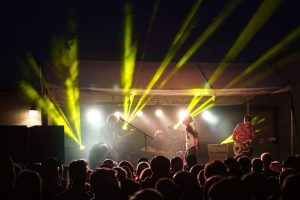 Fair State will be hosting another Art-A-Whirl event but this time it will run both Friday and Saturday. The highlight will be Frankie Lee who takes the stage on Saturday, May 21st at 9 pm.
612Brew will have also have music both Friday and Saturday with a lineup that features Hapduzn and Sara Streitz on Friday. Saturday Nooky Jones and The Satellites will perform while Outlaw Grill and Market BBQ will be cooking up a storm.
Also, be sure to visit the many studios and support local art. After all, that's what Art-A-Whirl is all about.
Cheers!