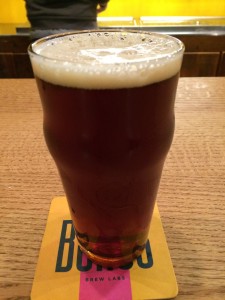 When you think of a Scottish-Style Ale you tend to think of a peaty beer backed with a boozy punch. Bauhaus broke down some of those walls with their brand new Scottish-Style Dark Ale named Tallander. First of all, the name (in Bauhaus fashion) is a nod to the 1986 movie "Highlander" that we all know and love. The beer itself is different in that it's very drinkable at 6 % ABV and has some of those nice caramel notes typical of Scottish malts while teasing the palate with a tiny bit of smokiness. While sampling this one I couldn't help but think of standing around a backyard fire pit with a Tallander in hand.
This brew can be found in 4 packs of 16 oz. cans at your local bottle shop, and on tap at the "Haus" in Northeast Minneapolis. Growlers will also be available.
Fair State's first bottle release went so well that they decided to do it again. This time they are bringing Saison Drei to market which is a Brettanomyces Aged Saison. Expect some funky characters from the Brett that will mature over time—which means you can sit this one down in your cellar for a while. Brewer Niko Tonks had this to say about their latest release. "We modeled this beer after some of the beers we enjoy drinking the most. We hope you will enjoy it this holiday season, and down the road as well."
This 5.7 % ABV will be on sale in the taproom ($11 per bottle) on a first-come, first-served basis beginning at 4:00 PM on Thursday, December 17th in 750 ml bottles. I'm told that they will have more bottles for sale this time around and that the brew will also be on tap that day.
Cheers!