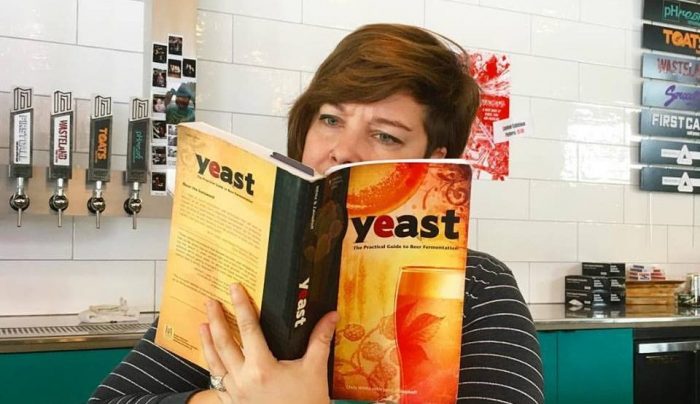 Modist Education Director Paige Latham will again be hosting her Beer Smarts class at the brewery beginning on March 6th. The six-week course will cover water, grains, hops, fermentation, evaluating beer, food and beer pairing, and the popular optional 7th session which is a beer dinner with chef Ian Gray from The Curious Goat and The Smoking Cow. Tickets for the optional four course dinner will cost $50 and the seats are limited.
I had the opportunity to sit in on one of these sessions and I was very impressed. Paige is very knowledgeable and is the perfect person to teach such a class. She's the woman behind the blog Alcohol by Volume and is the beer expert at Heavy Table. She also worked at The Four Firkins in St. Louis Park where she became a Cicerone Certified Beer Server.
Tickets for the six sessions are on sale for $60 and you can find them here. See the schedule below:
Session 1: Beer History and Water (3/6/17)
Intro to course
History of brewing
Properties of water
Ratio of grain to water / "gravity"
Beers famous for water reasons
Session 2: Grains and malting (3/13/17)
Focus on malted grain / barley
German Purity Law
Other sources of sugar (candied sugar, lactose)
What happens when water meets grain
Beers famous for grain reasons
Mini brewery tour!
Session 3: Hops (3/20/17)
Hops – what they are, how they're grown, and where they're grown
From the filter to the boil kettle
Hop additions and other additives
Session 4: Fermentation (3/27/17)
Historical significance of yeast as magic / God / luck
Classification of yeast
An overview of fermentation
Significant yeast strains through history and by style
Other methods of fermentation
The bright tank (forced carbonation vs natural)
Session 5: Evaluating Beer (4/10/17)
Packaging beer
Beer service (cleanliness/glassware)
Beer expiration
Critical evaluation and tasting
How to improve your palate
Good beer gone bad: off flavor training
Session 6: Food and Beer Pairing (4/24/17)
Why pair beer with food?
Pairing with beer vs wine
Basic taste elements
Congruent vs complementary food and beer pairing
Pairing tips and tricks