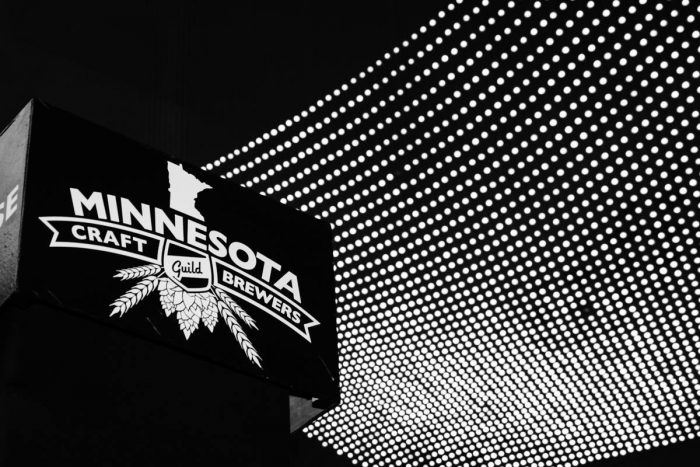 The premier event hosted by the Minnesota Craft Brewer's Guild has a new home this year, The Legends Club at Target Field. The Brewer's Guild outgrew the Union Depot even with the two-night format. The 16th edition of Winterfest will feature beer from nearly 100 Minnesota breweries. Once again the Snowshoe Award (Best of Fest) will be up for grabs and last year's winner Bent Paddle Brewing will be defending their title.
Attendees will be able to try out some of the best beers made in Minnesota as this often serves as a showcase for rare beers that aren't available year-round. Here are some beers we're looking forward to:
Lichtenhainer from Fair State Brewing – This Smoked Sour Wheat beer aged in barrels sounds very interesting. This isn't something I'd typically seek out, but Fair State has a great reputation with sours and this should be no different. You don't often see beers like this around the Twin Cities.
Tawny Port Barrel-Aged Peanut Butter Porter from Dangerous Man Brewing– This beer sold out within an hour and a half of being released back in December. The last time I sampled this one there were some big bittersweet chocolate notes and the peanut butter had really mellowed. You'll want to seek this one out early because it probably won't last long.
Westside Brewery Collective Barleywine from ENKI – This beer is the perfect beer for Winterfest in that it's big on caramel and molasses yet weighs in at a relatively low 7.1% ABV., uch lower than most Barleywines. They brewed this in collaboration with some of the other west metro breweries using the same ingredients including Minnesota grown Cascade hops.
Eye Wine Red from Minneapolis Town Hall Brewery – This is a delightful beer with strong hints of grapes in the nose and a wonderful dose of honey on the back end. This was brewed for Barrel-Aged Week at the brewery and should certainly be a contender for Best Beer.
Vintage Lunker from Steel Toe Brewing – Marshmallow, dark chocolate, and plums can be found in the aroma of this beer that is certain to warm you up with its high alcohol content of 13%. The brewery out of St. Louis Park has been releasing plenty of Barrel-Aged offerings over the years and Lunker is always one of the highlights.
HEXIT from Badger Hill Brewing – This beer certainly lives up to the hype surrounding it. Big hops dominate this beer but if you let it warm a bit you'll be rewarded with wonderful complex flavors from the local honey used to make it. This beer was made in collaboration with Todd Haug who recently left Surly to join 3 Floyds Brewery.
Emily's Dream #15 from LTD Brewing – This should be a nice sour offering from the brewery located in Hopkins. This Emily's Dream series has been a bit underrated and the combo of cherry and pomegranate together has me intrigued.
Flock Together from Indeed Brewing – This Belgian Dubbel is a collaboration project with the much anticipated Hoops Brewing out of Duluth. It can be difficult to find a well-made Belgian-style beer around town but this should be something special. Indeed's head brewer Josh Bischoff has been heavily influence by the Hoops brothers (he worked under Mike at Town Hall Brewery) and this sort of a project seemed like a no-brainer. "The Hoops brothers have always had a strong influence in my brewing career, and with the announcement of Hoops Brewing opening this year, a collaboration seemed like a fun way to work with an early mentor" according to Bischoff. Hoops brewing is set to open this spring/summer.
Dreamyard from Modist Brewing Company – If you tried Deviation #2, this is the finished version of that beer. Plenty of hops are used to make this beer but it's not super bitter. This actually tastes sort of like a IPA/mimosa hybrid. Lots of orange juice flavor in this beer.
Kolsch from Waconia Brewing Company – This beer is made with continental pilsner malt and will be a great in between beer at Winterfest. It's lower on the ABV chart than most (5%) so you can go back for this one multiple times.