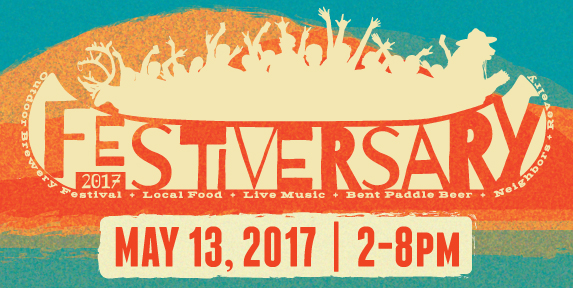 One of Minnesota's best breweries is celebrating 4 years and they're hosting Festiversary on Saturday, May 13th at their taproom in Duluth. The brewery has been through a lot in those 4 years. They revitalized a neighborhood, redefined what a coffee beer can be, took a stance in favor of the environment—and have since managed to increase their footprint into the Dakotas and Wisconsin.
Colin and Laura Mullen teamed up with Bryon and Karen Tonnis with the hopes of showcasing what the water of Lake Superior can contribute to beer. The beer now speaks for itself. Brewing everything from an IPA to a Black Coffee Ale—Bent Paddle is now the premiere brewery up on the North Shore.
The Festiversary event runs from 2-8 pm and will feature bands, rare beers, food trucks, and more. Tickets will cost you $15.
Cheers to the folks at Bent Paddle and those who enjoy their fantastic beers!
Here are the full details on the event:
Saturday, May 13, 2017 | 2 – 8 pm
Avoid the lines! Tix available in the Taproom 4/19 – $15
Bent Paddle is turning 4! Join us at the brewery on Saturday, May 13, 2017 from 2 – 8 pm to help us celebrate! We will be taking over our West Michigan Street block + neighborhood parking lots and throwing a "Festiversary" party – an outdoor brewery festival celebrating Bent Paddle Brewing Co.'s anniversary & you – the Partners & Paddlers that have helped us make it this far! There will be 3 stages of live music, curated food trucks, games & family friendly activities, community connections galore, and of course a whole lot of Bent Paddle beer!
—
FEATURING
Live Music & Entertainment with the Take It With You Crew, The Big Wu, Big Wave Dave and the Ripples, Jillian Rae, Black River Revue, Noble Sound System, Ben Weaver & more
Flagship & Specialty Beer on Draft + Multiple Types of Nitro, Infusion & Cask Beers + INTRODUCING A BRAND NEW FLAGSHIP!
BEER BRANDED HUTS
Venture Pils Hut
Venture Pils on Draft & in a Can
Blueberry Venure Pils Infusion
Bent Hop Hut
Bent Hop on Draft & in a Can
Citra Mango Bent Hop Infusion
Idaho 7 Bumped Bent Hop Firkin
14º ESB Hut
14º ESB on Draft & in a Can
Cherry 14º ESB Infusion
Cedar 14º ESB Firkin
Black Hut
Black on Draft & in a Can
Chai Black Infusion
Hot Hot Heat Black Firkin
Cold Press Black Hut
Cold Press Black on Draft & in a Can
Mocha Cold Press Black Infusion
Vanilla Cold Press Black Firkin
Paddle Break Blonde Hut
Paddle Break Blonde on Draft & in a Can
Botanical Paddle Break Blonde Infusion
Lemon Drop Bumped Paddle Break Blonde Firkin
Kanū Hut – indroducing a NEW year-round flagship beer @ Festiversary!
Kanū on Draft & in a Can
Citrus Party Kanū Infusion
Double Dry Hopped Kanū Firkin
BOATS & BLUEGRASS CAN TENT
Venture Pils
Bent Hop
14º ESB
Black
Cold Press Black
Paddle Break Blonde
Kanū
HOP OUTSIDE
+ NITRO POURS in the TAPROOM
Hop Outside Infusion – The Sharpest End – Ventue Pils infused with Juniper & Sage
Nitro Bent Hop
Nitro 14º ESB
Nitro Black
Nitro Cold Press Black
Nitro Kanū
Regular Draft Flagship Pours
Lake Superior Brewing Co. Root Beer
Food Trucks + Treats from OMC Smokehouse, The Duluth Grill, Lake Superior Bakehouse, Chow Haul Mobile Restaurant, All American Club, Log Home Wood Fired Pizza, Lake Avenue Restaurant and Bar & more!
Family Activities Area presented by Frost River Trading Co. & The Duluth Art Institute
Community Partnership Booths
Festival Merch for Sale & On-Site T-Shirt Printing with Duluth Screen Printing – Think "Festimals"…
General Revelry!
—
COST + INFORMATION
Tickets Available at the Gate + Pre-Sale Tickets Available from the Bent Paddle taproom starting April 19th
$15 Day-of admission gets you a 16oz Festiversary pint glass (while supplies last) & your first beer is free!
$5 Under 21 / $10 Designated Driver (no pint glass) / Kids 12 & under are free
Beer Tokens are $2 (1 for a 5oz sample, 2 for a can (& certain specialty pours), 3 for a full 16oz pint)
21+ to Enjoy Beer / Valid ID Required
Children with Accompanying Adults Allowed
We Love Fido & Socks but No Pets Allowed at Festiversary
Cash Only Festival | ATMs available onsite and at nearby bank/gas stations
Rain or Shine (or Snow!) – Outdoor Event – Please Dress / Layer Accordingly
—
LOCATION
Bent Paddle Brewing Co. | 1912 West Michigan Street | Duluth, MN 55806
View full directions to the brewery on the Contact page of our website
Free nearby vehicle parking lots (including the TBI lot located on the corner of West Michigan & 20th Avenue West and the gravel lot located on the corner West Michigan & 18th Avenue West) and street parking available throughout Lincoln Park. Please plan ahead for a sober ride home – paddlers paddling responsibly
Complimentary bicycle parking provided by Continental Ski & Bike
Cheers!