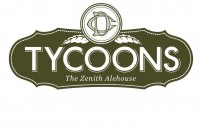 The Rathskeller at Tycoons in Duluth is throwing down with a very special selection of beer for Black Friday. Dave Hoops says he's stoked to be able to find these beers and encourages people to check it out. They're offering a "buy two, get your third at half price" deal.
Black Friday is the outstate MN debut of
Indeed Midnight Ryder
at Duluth's Tycoons Alehouse and Eatery. Come enjoy some unique black beers, the list is impressive!
– Goose Island Bourbon County Stout
– Surly Darkness
– Sierra Nevada Narwhal
– Odell Bourbon Stout
– Bells Hell Hath No Fury
– Deschutes Abyss
– Alaskan Smoked Porter
– Founders Breakfast Stout
– Fitger's Brewhouse Bourbon Ed
– Fitger's Brewhouse Ed Imperial Stout
– Indeed Brewing Midnight Ryder