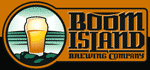 Boom Island's fourth beer, Brimstone makes its way to market this week with a release party at Eli's East on Tuesday starting at 4:30 followed by a bottle release at the brewery on Wednesday from 5-8.
At  Eli's East from 4:30-6:30pm, there will be special pricing on Brimstone and a Boom Island Tap Takeover featuring all four Boom Island beers on tap as well as special beer recipes, pairings and more.
On Wednesday, you can head over to the brewery (2207 North 2nd Street, Minneapolis) from 5-8pm for the first crack at bottles of Brimstone.  Brimstone is priced at $10 per 750ml bottle (tax included) with a limit of two per person. Kevin and the rest of the staff will be on hand to answer questions, and you're welcome to take a peek at the brewery.
The Beer: Color: Light Blond Flavor: Slight Sweetness layered over subtle yet complex spiciness Strength: 9.5% ABV (The important part) -A true example of the Belgian Abbey tradition of brewing, one of which I personally am very, very proud.