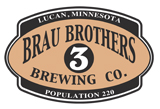 Here's a nice little piece on Brau Brothers Brewing in the New Ulm Journal.
The writer spoke with me for a bit. Watch, friends, as I butcher the English language and brewing history!
In the meantime, Minnesota's craft brewers are enjoying steady business throughout the state, each with its own niche. Ryan Anderson, founder and publisher of the Minneapolis-based MNBeer.com blog website said Brau is part of that success.

"To me, it's exciting with them because it's such a small town and they're making craft beer. It's such a tiny population and it's pretty exciting for such a small town," said Anderson.
I would have left out the second partial quote. 🙂 I was just reinforcing the notion that it's cool that such a tiny town (population 202 or so?) is home to a craft brewery.
Anderson said the Minnesota brewing scene continues to grow and the last three years have seen the rise of up-and-coming brewers like Brau Brothers. Most of them are located either in Minneapolis or St. Paul or the surrounding area. Anderson said the smaller labels of beer are slowly growing and have been catching on as consumers' tastes have developed.

The craft brewing trend began with Summit, which opened in 1986, and parallels similar activity in other parts of the U.S., such as California, where brands like Anchor Steam and Sierra Madre [Nevada] have caught on, Anderson said.
Let's add "In Minnesota," to the beginning of that last paragraph. 🙂 And if anyone gets confused and thinks that Anchor started in the 80s, I apologize.
He said the big push in smaller breweries is getting Minnesota back to the era of localized breweries that was common in the 1800s, although it isn't for the same reason today.
…I think we were talking about the return of the local/regional brewery here…
Craft beer is a friendly market, Anderson said, and the Minnesota market has room for Brau Brothers.

So, too, does the Minneapolis bar scene. The Brau name is becoming more and more common in establishments that serve Minnesota craft beers, said Anderson.