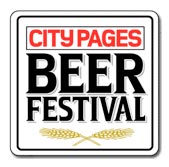 The 19th annual City Pages Beer Festival returns to downtown near 10th & Hennepin on Saturday, June 4, 2011.  This outdoor tasting features a variety of domestic and imported beers, live music and great people watching!  Advance tickets are $26, available at select MGM locations and online at www.citypages.com/beerfest.  Tickets will be available at the door the night of the event for $30.  Get the VIP Experience for $45 and enjoy FREE food, larger beers, early admission and private restrooms.  An $8 designated driver ticket is also available.  Regular admission includes all beer samples and live musical entertainment, including two bands – SellOut Stereo and Visceral – plus, accordionist Bill Koncar and the ever-popular Brian Boru Irish Pipe Band.
A portion of proceeds from the tasting will benefit the St. Paul Jaycees.  Check out www.citypages.com/beerfest for additional information.
If you're going to the festival and still need more beer after, stop in to MacKenzie with your wristband for $1 off your first beer.