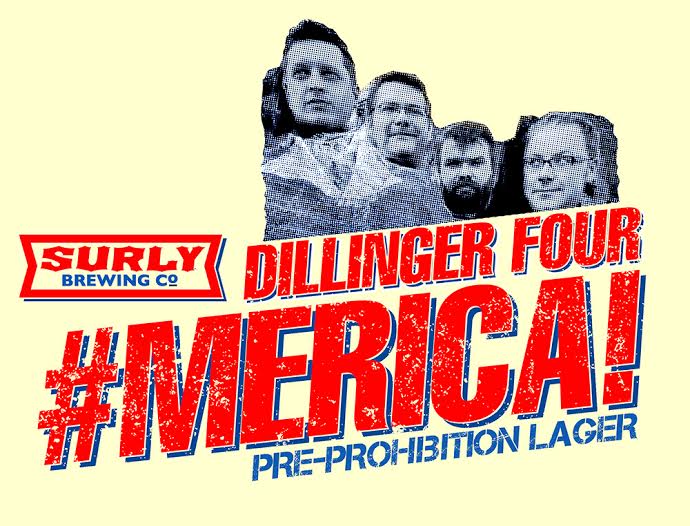 Before craft beer entered my life, there was punk rock. And one fine day in central Minnesota twenty (?!?!) years ago,
Dillinger 4
entered my life. D4 played my hometown of Fergus Falls to a mixed crowd. By and large, none of us really knew what to expect of this young band from the Twin Cities, but by the end of the night we were fans and couldn't wait for the next show.
Saturday, Dillinger 4 celebrates 21 years with the biggest D4th of July ever at the Triple Rock Social Club in Minneapolis. In addition to punk rock greats like
Scared of Chaka
,
Off With their Heads
,
Toys that Kill
and
Against Me!
 (and a bunch of other bands) ,our friends at Surly Brewing Co. will debut their new beer, #Merica! in celebration of the D4th (and the 4th) of July.
The folks from Surly call #MERICA! "a true 'Merican beer." This beer is a pre–Prohibition American lager with brewed with flaked corn and soft hop aromatics weighing in at 6% ABV. This is a summer beer perfect for the 4th (and D4th) of July.
WHAT: D4'th of July: D4 Turns 21!!
WHEN:
Saturday, July 4th, 1pm
WHERE: Triple Rock Social Club, 629 Cedar Ave., Minneapolis, MN, 55454
WHO: Dillinger Four; Against Me!; Scared of Chaka; Toys That Kill; Off With Their Heads; Tim Barry; Pink Mink; Nato Coles and the Blue Diamond Band; United Teachers of Music and SURPRISE Special Guests