A few years ago, Electric Fetus owner Aaron Meyerring was trying to bring in some more stuff to sell for Record Store Day—a day that kicks off the spring/summer festivities here and around the country. He decided that he wanted to work with a local brewery and Dangerous Man stepped right up. "They're great people over there and it's been a great partnership" he says. The record store sells some Dangerous man merchandise and the brewery makes an exclusive beer for this day. Unfortunately, they can't serve it at the south Minneapolis retailer, but if you bring your Electric Fetus receipt in to the brewery you'll get a dollar off a pint of the beer.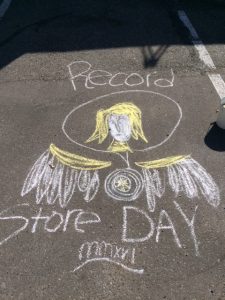 Meyerring wishes they could serve the beer but notes that they don't want to take away from what Record Store Day is about. "We didn't want to make Record Store Day a beer fest or anything like that" he says. The beer itself is Single Hop IPA brewed with Eureka hops. Vinyl collector and Dangerous Man Operations Manager Hilari Bandow describes the flavor of the beer. "Black Currants, pine, dark fruits, slight citrus and herbal notes from the hops blanket the aroma and flavors of this ale. Crisp, clean simple malts round out the backbone to keep the balance all in check."
New merch at the store will include some official Prince (a known supporter of Electric Fetus) merchandise not available anywhere else in the world. A year ago Aaron had the opportunity to attend Prince's last show in Atlanta. "We got call saying Prince would like you to come to his show in Atlanta. It was an opportunity you can't pass up."
An opportunity he's sure to remember for the rest of his days.
Here's the schedule for Saturday:
Music schedule:
10:00 a.m. – DJ Jake Rudh of Transmission
Noon – Marah in the Mainsail
1:30 p.m. – Sims
3:00 p.m. – Flipp
4:30 p.m. – Monica LaPlante
Peace Coffee will be on hand outside the store before we open.
Heggies Pizza will have breakfast pizza for those in line, starting at 7 a.m.
Glam Doll Donuts will have tasty treats inside at 9 a.m.
Natedogs and Chef Shack Ranch Minneapolis food trucks will be on site behind the store starting at 10 a.m.
10 a.m. – 3 p.m. – Relax in the Red Bull Sound Select lounge behind the store and check out the rockin' kids' craft area in the lounge…
DJ FunSize spins tunes
Cool activities for kids including projects recycling old vinyl, design your own album cover and more!
Warner Music Group will be here with posters and other free goodies behind the store.
Pick up your coupon for the special Electric Fetus Record Store Day beer at Dangerous Man Brewing Co all day Saturday.
Thanks to these additional sponsors:
Twin Town Guitars, Audioengine
Check out the list of Record Store Day exclusives here in PDF or web form:
https://electricfetus.tuneportals.com/NewsItem/4134
We can't guarantee what we'll have, but we've tried to get in as many as possible.
Cheers!